Postcolonial Suburbanisms: A View from Manila's Fringe and Beyond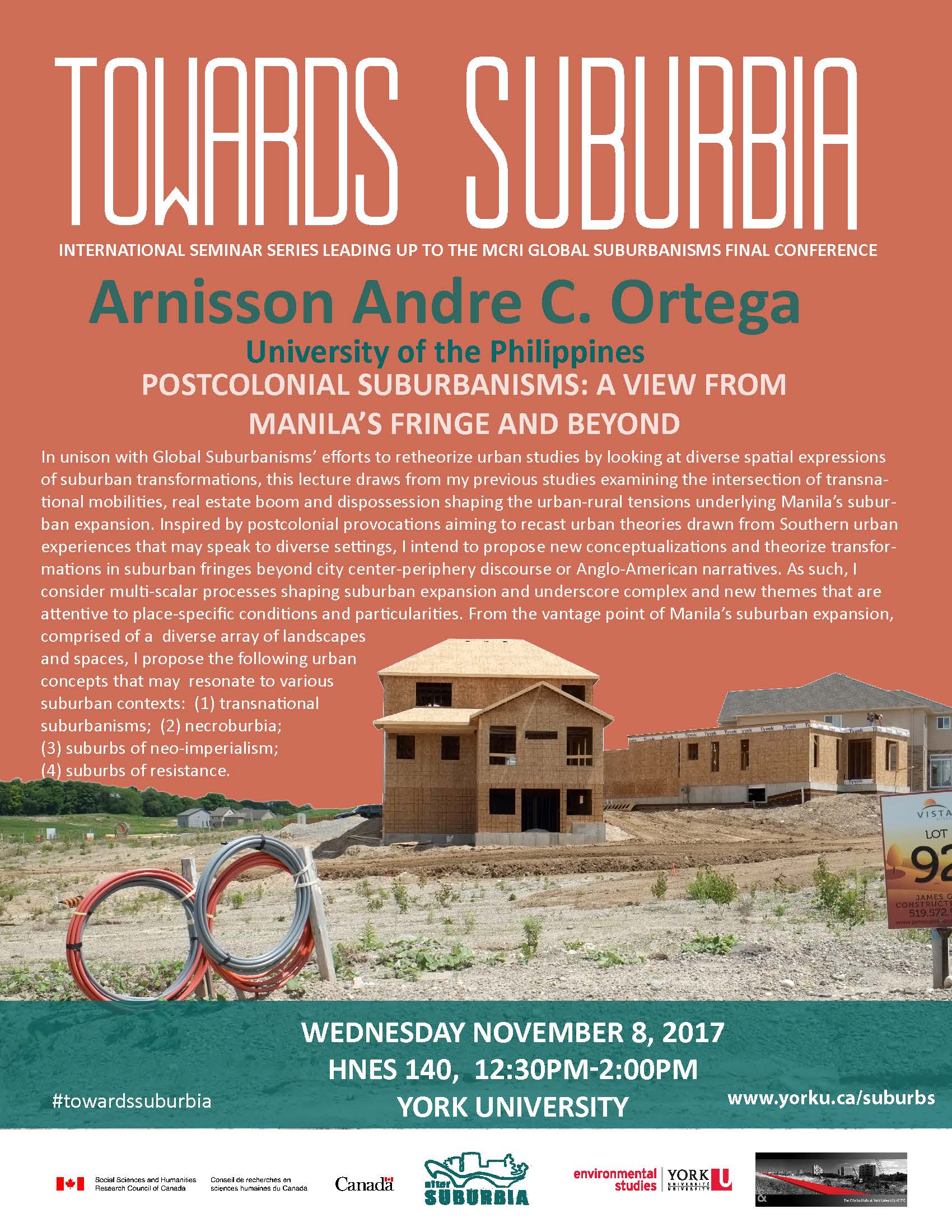 Please join us for the next Towards Suburbia Seminar with Arnisson Andre C. Ortega, Visiting Scholar, City Institute, York University and Assistant Professor, University of the Philippines.
Wednesday, November 8, 2017, 12:30pm- 2:00pm
Room 140, Health, Nursing & Environmental Studies Building
In unison with Global Suburbanisms' efforts to retheorize urban studies by looking at diverse spatial expressions of suburban transformations, this lecture draws from my previous studies examining the intersection of transnational mobilities, real estate boom and dispossession shaping the urban-rural tensions underlying Manila's suburban expansion. Inspired by postcolonial provocations aiming to recast urban theories drawn from Southern urban experiences that may speak to diverse settings, I intend to propose new conceptualizations and theorize transformations in suburban fringes beyond city center-periphery discourse or Anglo-American narratives. As such, I consider multi-scalar processes shaping suburban expansion and underscore complex and new themes that are attentive to place-specific conditions and particularities. From the vantage point of Manila's suburban expansion, comprised of a diverse array of landscapes and spaces, I propose the following urban concepts that may resonate to various suburban contexts: (1) transnational suburbanisms; (2) necroburbia; (3) suburbs of neo-imperialism; (4) suburbs of resistance.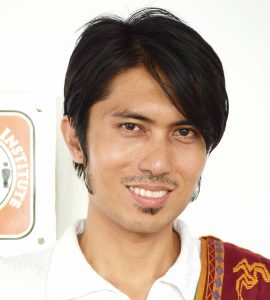 Dr. Ortega is a Visiting Scholar at the York University City Institute under the Urban Studies Foundation Fellowship. He received his PhD in Geography from the University of Washington and is an assistant professor at the University of the Philippines, Diliman. He is an interdisciplinary geographer and critical demographer, with interests on urbanization, migration, GIS, counter-mapping, spatial statistics, and socio spatial theory.
---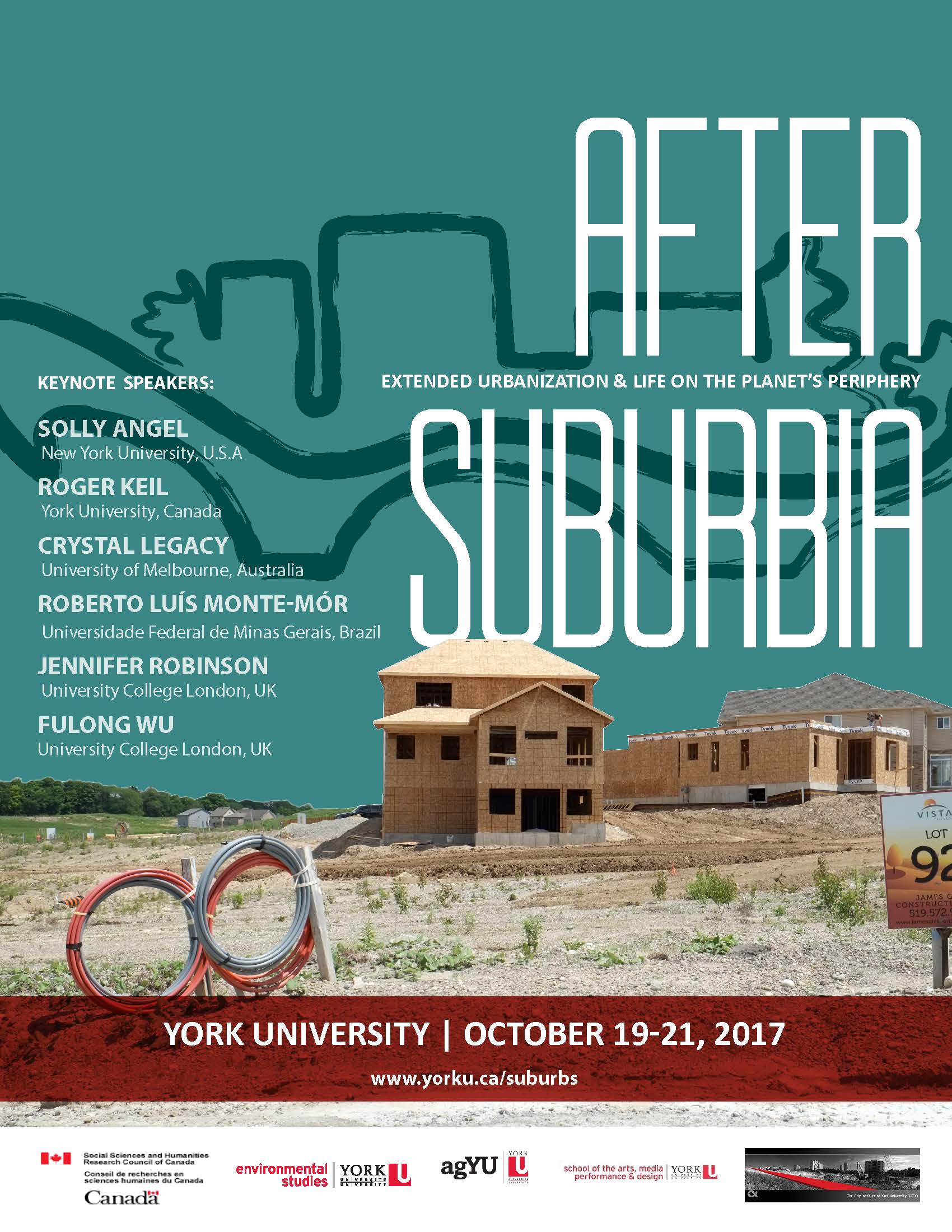 After Suburbia: Extended Urbanization & Life on the Planet's Periphery will be held October 19 – 21, 2017 at York University's Keele Campus.
CLICK HERE FOR A PDF COPY OF THE PROGRAM
The conference will bring together leading scholars of suburbanization and suburbanisms with a global profile, international scholars associated with the MCRI Global Suburbanisms project, Toronto region based urban policy and planning professionals and practitioners, and graduate students who will be presenting their own suburban research in our graduate student pre-conference.
The conference will be structured around the three foundational themes of the MCRI: Governance, Land and Infrastructure with the added topic of Comparative Suburban Research. Keynote speakers include Solly Angel (New York University, U.S.A); Roger Keil (York University, Canada); Crystal Legacy (University of Melbourne); Roberto Luís Monte-Mór (Universidade Federal de Minas Gerais, Brazil); Jennifer Robinson (University College London, UK); and Fulong Wu (University College London, UK).
In addition to conventional scholarly presentation formats (keynotes, panels, papers) the conference will feature:
For more information or details about registration and volunteering for the conference please contact suburban@yorku.ca
---
Beneath the Suburb: Indigenous Histories and Settler-Colonial Relations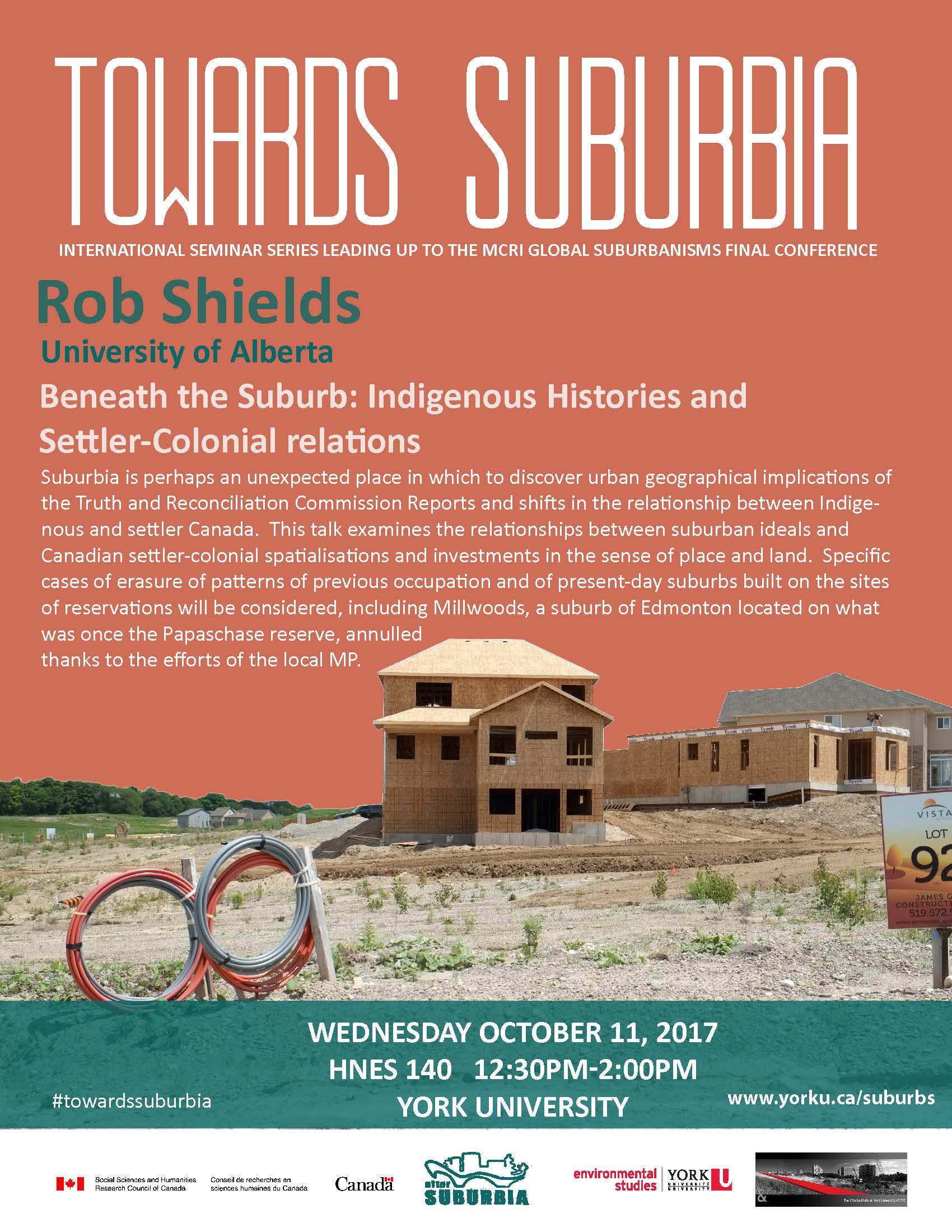 Wednesday October 11, 2017, 12:30pm-2pm
Room 140, Health, Nursing & Environmental Studies Building, York University
Suburbia is perhaps an unexpected place in which to discover urban geographical implications of the Truth and Reconciliation Commission Reports and shifts in the relationship between Indigenous and settler Canada. This talk examines the relationships between suburban ideals and Canadian settler-colonial spatialisations and investments in the sense of place and land. Specific cases of erasure of patterns of previous occupation and of present-day suburbs built on the sites of reservations will be considered, including Millwoods, a suburb of Edmonton located on what was once the Papaschase reserve, annulled thanks to the efforts of the local MP.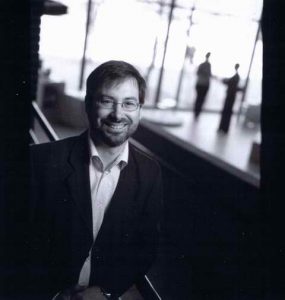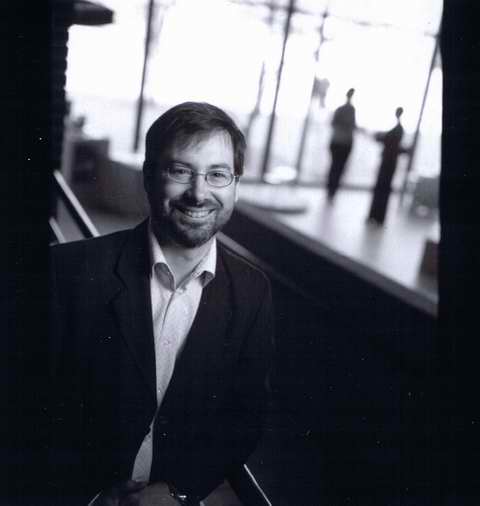 Rob Shields' work spans architecture, planning and urban geography. He is an award-winning author and co-editor of numerous books including Spatial Questions, The Virtual, Lifestyle Shopping, Cultures of Internet, Lefebvre Love and Struggle, Places on the Margin, and Building Tomorrow: Innovation in Construction and Engineering as well as online projects such as strip-appeal.com and spaceandculture.com. Before being awarded the University of Alberta's Henry Marshall Tory Endowed Research Chair in Sociology, Dr. Shields was Professor of Sociology and past Director of the Institute of Interdisciplinary Studies at Carleton University, Ottawa. A Commonwealth Scholar at University of Sussex, Robs early career was in passive solar design which he studied at Carleton University's School of Architecture. He founded Space and Culture, an international peer-refereed journal, and Curb Canadian planning magazine. He was 2014 City of Vienna Visiting Professor in Architecture and Planning at TUWien and is currently completing research on nanotechnology as a space of concern.
---
Still Detached and Subdivided? Book Launch with Markus Moos and Robert Walter-Joseph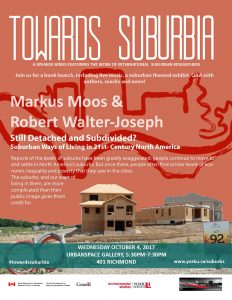 Join us for a book launch, including live music, a suburban themed exhibit, Q&A with authors, snacks and more!
Wednesday October 4, 2017
5:30pm- 7:30pm
Urbanspace Gallery, 401 Richmond Street
About the Book: Reports of the death of suburbs have been greatly exaggerated; people continue to move to and settle in North America's suburbs. But once there, people often find similar levels of economic inequality and poverty that they saw in the cities. The suburbs, and our ways of living in them, are more complicated than their public image gives them credit for.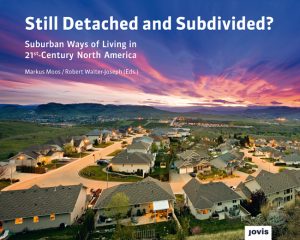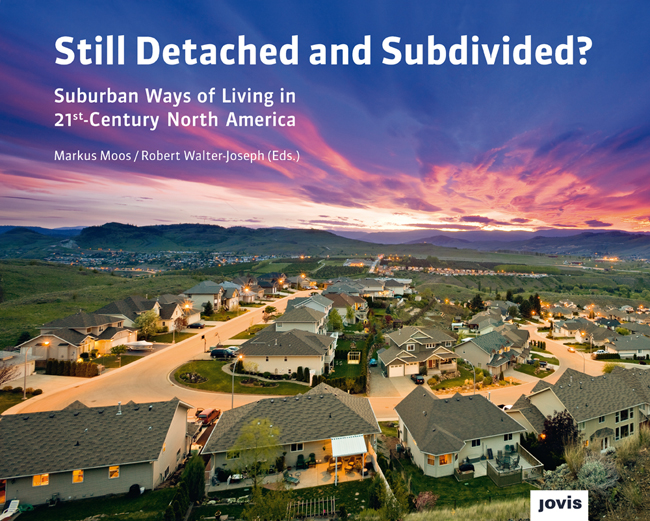 Still Detached and Subdivided? offers an accessible yet rigorous account of "suburbanisms" as particular ways of living, demonstrating that aspects of this lifestyle occur simultaneously in urban and suburban places. The approach taken in this volume by Markus Moos and Robert Walter-Joseph (Eds.) (University of Waterloo) of the Atlas of Suburbanisms research project suggests that policy solutions to suburban problems such as sprawl need to move beyond treating suburbs as homogeneous places in need of urbanization, and take into account their unique challenges and lifestyles.
The book is an output from the Global Suburbanisms research project lead by Roger Keil at York University. The book launch is part of the speaker series "Towards Suburbia".
Contributors:
Samantha Biglieri, Sarah Brown, Jennifer Dean, Nicholas Deibler, Pierre Filion, Christina Glass, Virginia Hang, Luna Khirfan, Anna Kramer, Liam McGuire, Pablo Mendez, Lucas Oldfield, Robert Shipley, Sarah Sinasac, David Vanderwindt, Mark Williamson, Alexander "AJ" Wray, Elvin Wyly, Nicole Yang.
About the editors:
Markus Moos is Associate Professor in the School of Planning at the University of Waterloo. His research is on changing housing markets, suburbanisms, youthification, generational change, and the economy and social structures of cities. Dr. Moos is lead author of the "Atlas of Suburbanisms" (http://env-blogs.uwaterloo.ca/atlas/), and founder of "Generationed City" (http://generationedcity.uwaterloo.ca).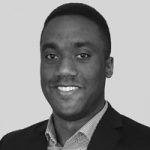 Robert Walter-Joseph is a graduate of the School of Planning at the University of Waterloo. He has several years of experience in social and economic research and policy development in the public and academic sectors. He has contributed to various research projects including the "Atlas of Suburbanisms" and the "Generationed City." His work has been featured in a number of publications including the Huffington Post, City Lab, and Curbed New York, and his writing has been published in the Ontario Planning Journal and the LSE American Politics and Policy Blog. He currently works for a planning and design consultancy in Toronto.
---
Provisional Notes on Semi-Urbanization with Abidin Kusno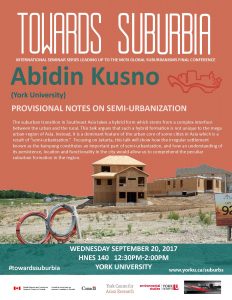 Please join us for the third installment of the MCRI Global Suburbanisms Towards Suburbia Seminar Series featuring the work of Abidin Kusno, Wednesday  September 20, 12:30pm- 2:00pm, Health Nursing & Environmental Studies Building (HNES) Room 140, York University.
Provisional Notes on Semi-Urbanization
Scholars working on Asian cities have argued that urban expansion in the region is taking a unique shape. In contrast to "suburbanization" which suggests a more or less unidirectional "urban sprawl" phenomenon due to the expansion of serviced land, the suburban transition in Southeast Asia, for instance, takes a hybrid form which stems from a complex interface between the urban and the rural. This talk argues that such a hybrid formation is not unique to the mega urban-region of Asia. Instead, it is a dominant feature of the urban core of some cities in Asia which, as I will show, is a result of "semi-urbanization." Focusing on Jakarta, this talk will show how the irregular settlement known as the kampung constitutes an important part of semi-urbanization, and how an understanding of its persistence, location and functionality in the city would allow us to comprehend the peculiar suburban formation in the region.
Abidin Kusno joined York as a Professor in the Faculty of Environmental Studies in 2015, and he is currently the director of York's Centre of Asian Research (YCAR). Before his arrival at York, he was the Canada Research Chair in Asian Urbanism and Culture at the Institute for Asian Research at the University of British Columbia. His highly respected academic work draws upon a range of fields including urban studies, history, politics, cultural studies, architecture, design and geography. His research focuses on Indonesia in particular and he is a speaker of Bahasa Indonesia and Hokkien. Professor Kusno's books include: Visual Cultures of the Ethnic Chinese in Indonesia (2016, Rowman & Littlefield); After the New Order: Space, Politics and Jakarta (2013, Hawaii University Press); Appearances of Memory: Mnemonic Practices of Architecture and Urban Form in Indonesia (2010, Duke University Press); and Behind the Postcolonial: Architecture, Urban Space and Political Cultures in Indonesia (2000, Routledge).
As President of the Canadian Council for Southeast Asian Studies (CCSEAS), Professor Kusno is also chairing the organizing committee for the CCSEAS conference to be hosted at York University in October 2017.
This seminar series is presented by the Major Collaborative Research Initiative Global Suburbanisms as a lead up to the project's final conference, "After Suburbia: Extended Urbanization and Life on the Planet's Periphery."
---
After Suburbia: Extended Urbanization and Life on the Planet's Periphery
We are excited to have received funding through a SSHRC connection grant for our conference After Suburbia: Extended Urbanization and Life on the Planet's Periphery scheduled for October 19 to 21. Click here to view the yFile article.
This is the final conference of a series marking seven years of suburban scholarship. It is part of the multiyear project, the Major Collaborative Research Initiative (MCRI) Global Suburbanism: Governance, Land and Infrastructure in the 21st Century.
This conference will bring together four categories of participants:
Leading scholars of suburbanization and suburbanisms with a global profile – the keynote presenters;
International scholars associated with MCRI;
Toronto-based urban policy and planning professionals and practitioners; and
Graduate students who will present their own work in a pre-conference.
Conference registration is now open. Please click here to register online. We are also recruiting volunteers for the conference. Please contact suburban@yorku.ca to sign up.
---
South Asian Suburbanisms
The South Asian Suburbanisms cluster co-organized an international workshop titled, "Tracking Transformations in Agrarian-Urban Hinterlands of South Asia." The workshop was held from February 23 to 25, 2017 at the Convention Center in Jawaharlal Nehru University (JNU), New Delhi. It was collaboratively organized by the Center for Political Studies, Jawaharlal Nehru University, New Delhi, and Jindal School of Governance, Sonepat.
On the first day of the workshop, a day-long tour of Delhi's suburb, Gurgaon was organized. On the second and third day, sixteen papers were presented. The papers focused on the new and changing forms of peripheral urbanization in the agrarian-urban hinterlands of eight cities in South Asia, including Bangalore, Chennai, Delhi, Dhaka, Hyderabad, Karachi, Kathmandu, Kolkata, and Mumbai. In keeping with the mandate of the MCRI, seven different panels interrogated the reach and valence of categories like rural, urban, and suburban in the South Asian context and examined how the transformations in the agro-pastoral hinterlands offer a critical vantage point for understanding sub-urbanization in South Asia. Some of the key themes and questions that emerged during the conference were: the new regimes of land and property, changing nature of work and livelihood, the shifts in sense of place and subjectivity, the practices and politics of exclusion and belonging that are taking shape in this political, spatial, and economic conjuncture.
The workshop was very well attended and attracted local students, faculty members, and researchers and urban policy makers. At the round-table session at the end of the workshop, it was decided that proceedings will be submitted for publication in a South Asian journal.
The full conference program can be downloaded here.
---
Retrofitting Suburbia with Ellen Dunham-Jones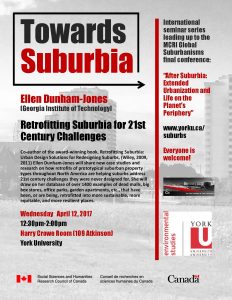 Please join us for our second Towards Suburbia seminar with sub/urban design scholar, Ellen Dunham-Jones, Wednesday April 12, 12:30pm- 2:00pm, Atkinson Room 109 (Harry Crowe Room)
Retrofitting Suburbia for 21st Century Challenges
Co-author of the award-winning book, Retrofitting Suburbia: Urban Design Solutions for Redesigning Suburbs, (Wiley, 2009, 2011) Ellen Dunham-Jones will share new case studies and research on how retrofits of prototypical suburban property types throughout North America are helping suburbs address 21st century challenges they were never designed for. She will draw on her database of over 1400 examples of dead malls, big box stores, office parks, garden apartments, etc., that have been, or are being, retrofitted into more sustainable, more equitable, and more resilient places.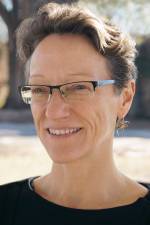 Ellen Dunham-Jones is a professor of architecture at Georgia Tech and director of the MS in Urban Design degree. Her teaching and 60+ published articles address the intersection of contemporary theory and real estate practice. A leading authority on suburban redevelopment, she lectures widely and conducts workshops with municipalities. She and co-author June Williamson wrote Retrofitting Suburbia; Urban Design Solutions for Redesigning Suburbs (Wiley, 2009, 2011, mandarin edition 2013). The award-winning book's documentation of successful retrofits of dead big box stores, malls, office parks, and other suburban property types into more sustainable places has received significant media attention in The New York Times, PBS, NPR, Harvard Business Review, Urban Land, TED and other venues. The Retrofitting Suburbia Case Studies: Designs for 21st Century Challenges is forthcoming.
This seminar series is presented by the Major Collaborative Research Initiative Global Suburbanisms as a lead up to the project's final conference, "After Suburbia: Extended Urbanization and Life on the Planet's Periphery."
---
Launching Towards Suburbia Seminar Series with Paul Maginn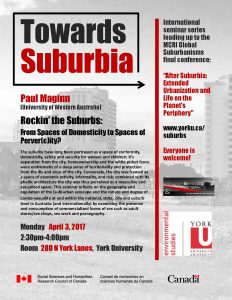 Join us for our first installment in the Towards Suburbia seminar series with Australian planning scholar Paul Maginn, Monday April 3, at 2:30 pm in 280 N York Lanes.
Rockin' the Suburbs: From Spaces of Domesticity to Spaces of Perver(c)ity?
The suburbs have long been portrayed as a space of conformity, domesticity, safety and security for women and children; it's separation from the city, home ownership and the white picket fence were emblematic of a deep sense of territoriality and protection from the ills and vices of the city. Conversely, the city was framed as a space of economic activity, informality, and risk; combined with its phallic architecture the city was thus perceived as a masculine and sexualized space. This seminar reflects on the geography and regulation of the (sub)urban sexscape and the nature and degree of cosmo‐sexuality at and within the national, state, city and suburb level in Australia (and internationally) by examining the presence and consumption of commercialized forms of sex such as adult stores/sex shops, sex work and pornography.
Paul J. Maginn is an Associate Professor and Programme Co-ordinator for the Masters in Urban and Regional Planning programme at the University of Western Australia where he has been based since 2007. Originally from Belfast, Northern Ireland, he has degrees from the University of Ulster (Coleraine) and Queen's University of Belfast. Paul completed his PhD on urban regeneration at London South Bank University. He is the co-editor/author of several edited books, including (Sub)Urban Sexscape: Geographies and Regulation of the Sex Industry which won the Planning Institute of Australia's 2016 National Award for Excellence in Cutting Edge Research and Teaching. Paul is completing another edited book, Suburbia in the 21st Century: From Dreamscapes to Nightmares, with Katrin Anacker; and, he is about to commence work on another edited book, Navigating Contemporary Sex Work: Gender, Justice and Regulation (Palgrave Macmillan).
This seminar series is presented by the Major Collaborative Research Initiative Global Suburbanisms as a lead up to the project's final conference, "After Suburbia: Extended Urbanization and Life on the Planet's Periphery."
---
New book edited by Roger Keil, Pierre Hamel, Julie-Anne Boudreau  & Stefan Kipfer
Governing Cities through Regions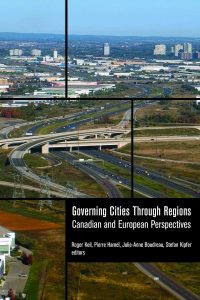 Canadian and European Perspectives
edited by Roger Keil, Pierre Hamel, Julie-Anne Boudreau  & Stefan Kipfer
'Governing Cities Through Regions broadens and deepens our understanding of metropolitan governance through an innovative comparative project that engages with Anglo-American, French, and German literatures on the subject of regional governance. It expands the comparative angle from issues of economic competitiveness and social cohesion to topical and relevant fields such as housing and transportation, and it expands comparative work on municipal governance to the regional scale.
With contributions from established and emerging international scholars of urban and regional governance, the volume covers conceptual topics and case studies
that contrast the experience of a range of Canadian metropolitan regions with a
strong selection of European regions. It starts from assumptions of limited
conversion among regions across the Atlantic but is keenly aware of the
remarkable differences in urban regions' path dependencies in which the larger
processes of globalization and neo-liberalization are situated and
materialized.'
---
Africa's New Suburbanisms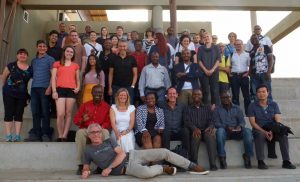 As part of the MCRI Global Suburbanisms, the regional research group on Africa organized a workshop on Africa's New Suburbanisms in Johannesburg, South Africa, October 17-19, 2016. Organized by the local hosts at the Wits City Institute, University of the Witwatersrand, Johannesburg under the leadership of Robin Bloch and Alan Mabin, the workshop was held at the Johannesburg Institute of Advanced Study, at the University of Johannesburg in Melville. ICF International and the City Institute at York University co-sponsored the event.
The workshop began with a guided tour of Johannesburg's northern suburbs. It continued with two full days of panels and paper presentations by researchers from across Africa (Ethiopia, Ghana, Cameroun, Kenya, South Africa, Zambia and Tanzania) and members of the MCRI from abroad including members of the initiative's Advisory Board, Teresa Caldeira (Berkeley) and Abidin Kusno (York University). A broad range of papers covered case studies and theoretical analysis from Cairo to Cape Town and from Accra to Dar-es-Salaam. The papers will be the basis of an edited book in preparation for the Global Suburbanisms book series with University of Toronto Press.
A copy of the workshop program can be downloaded here.
Alongside the scholarly conference, the visitors had many opportunities to meet local and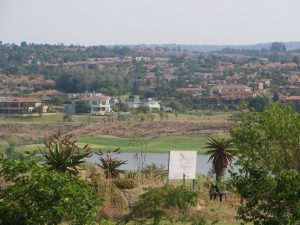 regional colleagues, activists and decision makers. In connection with the workshop, Professor Ute Lehrer from York University brought 11 graduate students from the Faculty of Environmental Studies planning program to Johannesburg for a planning studio dealing with regional housing issues in the Johannesburg region.
---
 Blue-Green Boundaries in a Suburbanizing World Workshop

A three-day workshop Blue-Green Boundaries in a Suburbanizing World took place at the Federal University of Minas Gerais in Belo Horizonte from February 28 to March 1, 2016. This event was co-sponsored by the Major Collaborative Research Initiative (MCRI) on Global Suburbanisms housed at The City Institute at York University and the Center for Regional Development and Planning (CEDEPLAR) at UFMG. CEDEPLAR's generous hospitality made this workshop an unforgettable experience for participants from near and far.
The event grew out of previous conversations between members of Boundaries theme area of the MCRI on Global Suburbanisms and CEDEPLAR researchers who are involved in work on "blue green wefts" (original concept in French: la trame verte et bleue). The workshop brought together researchers from both networks to talk about the relationships of suburbanization, regional planning and conservation.
The purpose of the event was fourfold: 1) To connect the work that is done in Belo Horizonte on blue-green landscapes with the work done on the topic by members of the Global Suburbanisms project housed at York University in Toronto; 2) For the visitors from abroad (coming from Africa, Asia, Europe and Canada) to learn about the Belo Horizonte urban region; 3) to explore the possibility of publishing the work presented at the conference in a joint publications in English and Portuguese; and 4) to explore the possibilities of further collaboration through research and teaching.
The conference began with an extensive tour of the southern suburbs of Belo Horizonte, among them the community of Nova Lima and the Parque Estadual Serra do Rola Moca. It gave participants an excellent overview of the layered landscape of a traditional mining region that is now being transformed through rapid developments at its periphery.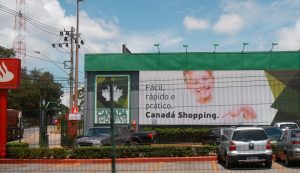 The opening tour was followed by two days of intense presentations and debate. A program of the event can be found here. Papers on regional planning, greenbelts and conservation areas that intersect with global suburbanization in places as diverse as Belo Horizonte, Frankfurt, Gurgaon, Johannesburg, the Ruhr, Seoul and Ontario were presented. The workshop ended with a productive discussion on a forthcoming book publication and an intended joint research program.
A copy of the workshop program can be downloaded here.
---
Spotlight on Istanbul: Building and Rebuilding the Periphery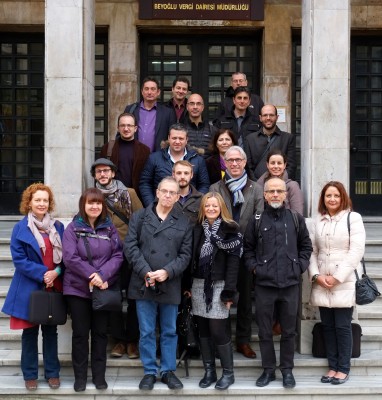 The Major Collaborative Research Initiative on Global Suburbanisms: Governance, Land and Infrastructure in the 21st Century  is holding an international workshop on Building and Re-Building the Urban Periphery in Istanbul, Turkey, December 10-12, 2015.
The event is co-organized by Roger Keil and Murat Üçoğlu at York University with Kazim Murat Guney at Columbia University, Sylvia Tiryaki and Mensur Akgün at the Istanbul Kültür University, and Julia Strutz and Erbatur C̨avuşoğlu at Mimar Sinan University as well as Jean-François Pérouse (IFEA).
The workshop specifically is designed to address the political economies of large scale housing projects in the peripheries of the world's cities. The event/project is about the various ways in which peripheral urban housing projects are being built and re-vitalized.
The location of Istanbul where the workshop will take place was deliberately chosen. The significance of the city's development from providing housing through gecekondu-style squatting and regularization to massive state-led building of mostly peri-urban housing estates (through organizations such as TOKI) is widely recog
nized as exemplary and subject to much inter-referencing in global debates on housing in post-suburbia.
Istanbul is also a geographical bridge between West Asia, North Africa and Europe, both historically and currently. We therefore would consider Istanbul to be at several intersections of theory, history and geography.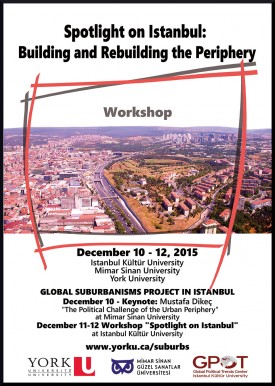 The workshop will bring together leading Turkish and global researchers and activists on peripheral housing and settlement as well as social activism around housing, displacement and re-settlement with members of the MCRI research team to discuss how inter-referenced forms of urbanism are used to a) build peripheral large scale housing estates and b) manage those estates over time, in times of re-vitalization, shrinkage, population change, environmental challenges and economic crisis.
The event opens with a tour of Istanbul's periphery and a keynote by Mustafa Dikeç (Ecole d'Urbanisme de Paris) on The Political Challenge of the Urban Periphery. This will be followed by two days of presentations by international and local experts. The program for the workshop can be downloaded here.
The event has been supported financially by the Social Sciences and Humanities Research Council (SSHRC) through the MCRI Global Suburbanisms, by the York Research Chair in Global Suburban Studies and by local host institutions Istanbul Kültür University and Mimar Sinan University.
Click here for a PDF copy of the workshop program. 
---
News
This research is supported by the Social Sciences and Humanities Research Council of Canada through funding from the Major Collaborative Research Initiative "Global suburbansims: governance, land, and infrastructure in the 21st century (2010-2017).