New book edited by Roger Keil, Pierre Hamel, Julie-Anne Boudreau  & Stefan Kipfer
Governing Cities through Regions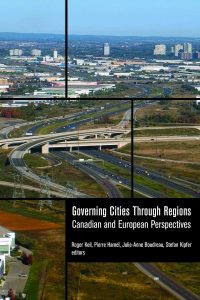 Canadian and European Perspectives
edited by Roger Keil, Pierre Hamel, Julie-Anne Boudreau  & Stefan Kipfer
'Governing Cities Through Regions broadens and deepens our understanding of metropolitan governance through an innovative comparative project that engages with Anglo-American, French, and German literatures on the subject of regional governance. It expands the comparative angle from issues of economic competitiveness and social cohesion to topical and relevant fields such as housing and transportation, and it expands comparative work on municipal governance to the regional scale.
With contributions from established and emerging international scholars of urban and regional governance, the volume covers conceptual topics and case studies
that contrast the experience of a range of Canadian metropolitan regions with a
strong selection of European regions. It starts from assumptions of limited
conversion among regions across the Atlantic but is keenly aware of the
remarkable differences in urban regions' path dependencies in which the larger
processes of globalization and neo-liberalization are situated and
materialized.'
---
Africa's New Suburbanisms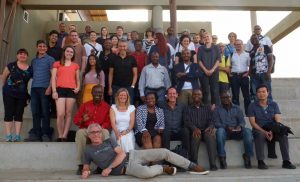 As part of the MCRI Global Suburbanisms, the regional research group on Africa organized a workshop on Africa's New Suburbanisms in Johannesburg, South Africa, October 17-19, 2016. Organized by the local hosts at the Wits City Institute, University of the Witwatersrand, Johannesburg under the leadership of Robin Bloch and Alan Mabin, the workshop was held at the Johannesburg Institute of Advanced Study, at the University of Johannesburg in Melville. ICF International and the City Institute at York University co-sponsored the event.
The workshop began with a guided tour of Johannesburg's northern suburbs. It continued with two full days of panels and paper presentations by researchers from across Africa (Ethiopia, Ghana, Cameroun, Kenya, South Africa, Zambia and Tanzania) and members of the MCRI from abroad including members of the initiative's Advisory Board, Teresa Caldeira (Berkeley) and Abidin Kusno (York University). A broad range of papers covered case studies and theoretical analysis from Cairo to Cape Town and from Accra to Dar-es-Salaam. The papers will be the basis of an edited book in preparation for the Global Suburbanisms book series with University of Toronto Press.
A copy of the workshop program can be downloaded here.
Alongside the scholarly conference, the visitors had many opportunities to meet local and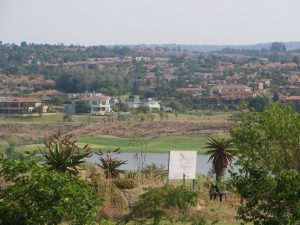 regional colleagues, activists and decision makers. In connection with the workshop, Professor Ute Lehrer from York University brought 11 graduate students from the Faculty of Environmental Studies planning program to Johannesburg for a planning studio dealing with regional housing issues in the Johannesburg region.
---
 Blue-Green Boundaries in a Suburbanizing World Workshop

A three-day workshop Blue-Green Boundaries in a Suburbanizing World took place at the Federal University of Minas Gerais in Belo Horizonte from February 28 to March 1, 2016. This event was co-sponsored by the Major Collaborative Research Initiative (MCRI) on Global Suburbanisms housed at The City Institute at York University and the Center for Regional Development and Planning (CEDEPLAR) at UFMG. CEDEPLAR's generous hospitality made this workshop an unforgettable experience for participants from near and far.
The event grew out of previous conversations between members of Boundaries theme area of the MCRI on Global Suburbanisms and CEDEPLAR researchers who are involved in work on "blue green wefts" (original concept in French: la trame verte et bleue). The workshop brought together researchers from both networks to talk about the relationships of suburbanization, regional planning and conservation.
The purpose of the event was fourfold: 1) To connect the work that is done in Belo Horizonte on blue-green landscapes with the work done on the topic by members of the Global Suburbanisms project housed at York University in Toronto; 2) For the visitors from abroad (coming from Africa, Asia, Europe and Canada) to learn about the Belo Horizonte urban region; 3) to explore the possibility of publishing the work presented at the conference in a joint publications in English and Portuguese; and 4) to explore the possibilities of further collaboration through research and teaching.
The conference began with an extensive tour of the southern suburbs of Belo Horizonte, among them the community of Nova Lima and the Parque Estadual Serra do Rola Moca. It gave participants an excellent overview of the layered landscape of a traditional mining region that is now being transformed through rapid developments at its periphery.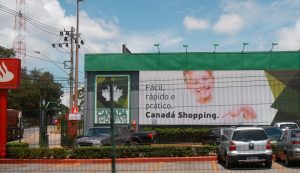 The opening tour was followed by two days of intense presentations and debate. A program of the event can be found here. Papers on regional planning, greenbelts and conservation areas that intersect with global suburbanization in places as diverse as Belo Horizonte, Frankfurt, Gurgaon, Johannesburg, the Ruhr, Seoul and Ontario were presented. The workshop ended with a productive discussion on a forthcoming book publication and an intended joint research program.
A copy of the workshop program can be downloaded here.
---
Spotlight on Istanbul: Building and Rebuilding the Periphery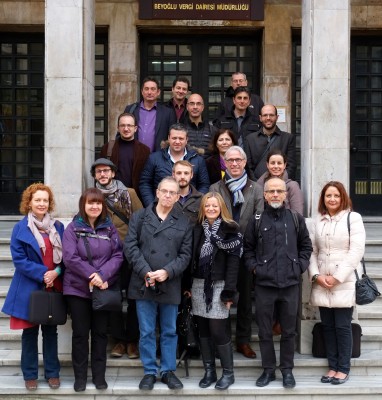 The Major Collaborative Research Initiative on Global Suburbanisms: Governance, Land and Infrastructure in the 21st Century  is holding an international workshop on Building and Re-Building the Urban Periphery in Istanbul, Turkey, December 10-12, 2015.
The event is co-organized by Roger Keil and Murat Üçoğlu at York University with Kazim Murat Guney at Columbia University, Sylvia Tiryaki and Mensur Akgün at the Istanbul Kültür University, and Julia Strutz and Erbatur C̨avuşoğlu at Mimar Sinan University as well as Jean-François Pérouse (IFEA).
The workshop specifically is designed to address the political economies of large scale housing projects in the peripheries of the world's cities. The event/project is about the various ways in which peripheral urban housing projects are being built and re-vitalized.
The location of Istanbul where the workshop will take place was deliberately chosen. The significance of the city's development from providing housing through gecekondu-style squatting and regularization to massive state-led building of mostly peri-urban housing estates (through organizations such as TOKI) is widely recog
nized as exemplary and subject to much inter-referencing in global debates on housing in post-suburbia.
Istanbul is also a geographical bridge between West Asia, North Africa and Europe, both historically and currently. We therefore would consider Istanbul to be at several intersections of theory, history and geography.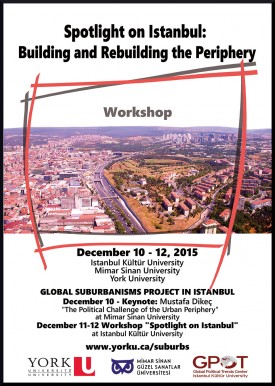 The workshop will bring together leading Turkish and global researchers and activists on peripheral housing and settlement as well as social activism around housing, displacement and re-settlement with members of the MCRI research team to discuss how inter-referenced forms of urbanism are used to a) build peripheral large scale housing estates and b) manage those estates over time, in times of re-vitalization, shrinkage, population change, environmental challenges and economic crisis.
The event opens with a tour of Istanbul's periphery and a keynote by Mustafa Dikeç (Ecole d'Urbanisme de Paris) on The Political Challenge of the Urban Periphery. This will be followed by two days of presentations by international and local experts. The program for the workshop can be downloaded here.
The event has been supported financially by the Social Sciences and Humanities Research Council (SSHRC) through the MCRI Global Suburbanisms, by the York Research Chair in Global Suburban Studies and by local host institutions Istanbul Kültür University and Mimar Sinan University.
Click here for a PDF copy of the workshop program. 
---
News
This research is supported by the Social Sciences and Humanities Research Council of Canada through funding from the Major Collaborative Research Initiative "Global suburbansims: governance, land, and infrastructure in the 21st century (2010-2017).