Highlights from After Suburbia: Extended Urbanization & Life on the Planet's Periphery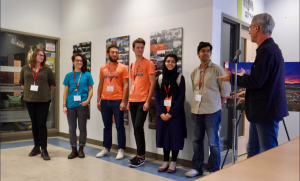 Marking the culmination of seven years of research, the MCRI Global Suburbanisms Project held its final conference, After Suburbia: Extended Urbanization & Life on the Planet's Periphery October 19-21, 2017 at York University in Toronto, Canada.
The conference was made possible with generous contributions and support from the Social Sciences and Research Council of Canada (SSHRC), York University's Office of the President, Office of the Vice-President Academic & Provost, Office of the Vice-President Research & Innovation, the Faculty of Environmental Studies, the Art Gallery of York University (AGYU), the Department of Dance and Theatre, the City Institute, and wonderful and committed volunteers. Thank you to all!
After Suburbia brought together academics, students, and practitioners from across the globe to study the suburbs from the perspective of governance, land, infrastructure, and comparative suburbanisms and included keynotes, panel session and roundtable discussions. Keynote speakers included Solly Angel (New York University, U.S.A); Roger Keil (York University, Canada); Crystal Legacy (University of Melbourne); Roberto Luís Monte-Mór (Universidade Federal de Minas Gerais, Brazil); Jennifer Robinson (University College London, UK); and Fulong Wu (University College London, UK).
Highlights from the three day event include:
Graduate Student Pre-Conference
The graduate student pre-conference took place during the afternoon of Thursday October 19 and brought together PhD students from Brazil, India, UK, Canada, Belgium, and the Netherlands to present their work on sub/urban theory and the urban periphery.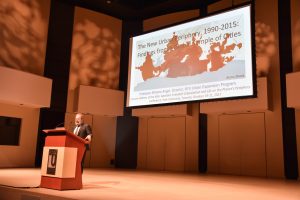 Official Conference Opening
The official conference opening included welcome remarks from Robert Haché, Vice-President Research & Innovation, Ravi de Costa, Dean of the Faculty of Environmental Studies, Linda Peake, Director of the City Institute at York University, and Roger Keil, Principal Investigator of the MCRI Global Suburbanisms Project. Shlomo (Solly) Angel (New York University) followed with the keynote, "The New Urban Periphery, 1990-2015: Findings from a Global Sample of Cities."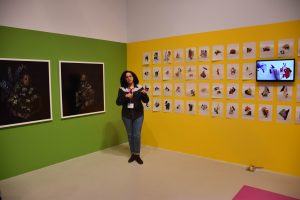 Migrating the Margins
We were happy to partner with the Art Gallery of York University to present its fall exhibition Migrating the Margins during our conference opening and reception, the evening of Thursday October 19. The exhibition looks at how a new generation of Toronto artists are imagining place, picturing the future, and reflecting on the vast changes in the city's culture as a result of decades of immigration and life in the suburbs.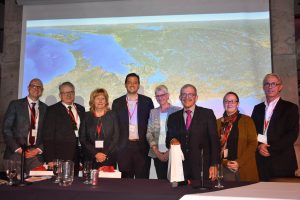 GTSWG Mayors Panel
The Greater Toronto Suburban Working Group's (GTSWG) Mayors Panel, "Governing and Changing the Urban Periphery" took place during the lunch hour of Friday October 20. The panel was moderated by GTSWG and CITY Institute affiliate, Sean Hertel and featured: Mayor Rob Burton, Oakville; Mayor Linda Jeffrey, Brampton; Mayor Jeff Lehman, Barrie; and Mayor Steve Parish, Ajax.
Concord Floral
Conference participants attended a special staged reading of Dora award winning play, Concord Floral during the evening of Friday October 20. Laura Levin from York's Department of Theatre, introduced the performance, including images from Erin Brubacher's photo series, "This is my room. Look." Thank you to the cast and crew, Erin Brubacher, Cara Spooner, Jordan Tannahill, Erum Khan, and Laura Levin for a memorable performance.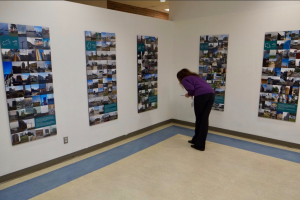 Art in FES Lounge
The FES Lounge in the Health, Nursing & Environmental Studies Building was transformed for the last day of the conference Saturday October 21 with images from Ute Lehrer, Markus Moos, and Robert Walter-Joseph's exhibition, Urban Growth on the Periphery: Land, Urban Form, Infrastructure and Everyday Life. Drawing on Markus Moos and Robert Walter-Joseph's recently edited volume Still Detached and Subdivided? Suburban Ways of Living in 21st Century North America (Jovis), this work demonstrates that aspects of this lifestyle occur simultaneously in urban and suburban places. Alongside Moos and Walter-Joseph's work were visual impressions of urban infrastructure, taken by undergraduate students from York University who explored suburban areas in Canadian cities (Montreal, Toronto, Waterloo, Winnipeg, Vancouver) under the directorship of Ute Lehrer and Roger Keil,as well as photographs taken by graduate students who participated in international planning workshops on Global Suburbanisms (Leipzig, Germany; Montpellier, France; Shanghai, China; and Johannesburg, South Africa.) A visual essay with aerial photography, which is part of the forthcoming book The Suburban Land Question, co-edited by Richard Harris and Ute Lehrer (UTP), remains mounted on the floor of the ZigZag Gallery at the Faculty of Environmental Studies showing the similarities and differences of urban forms at the periphery.
After Suburbia in the Media: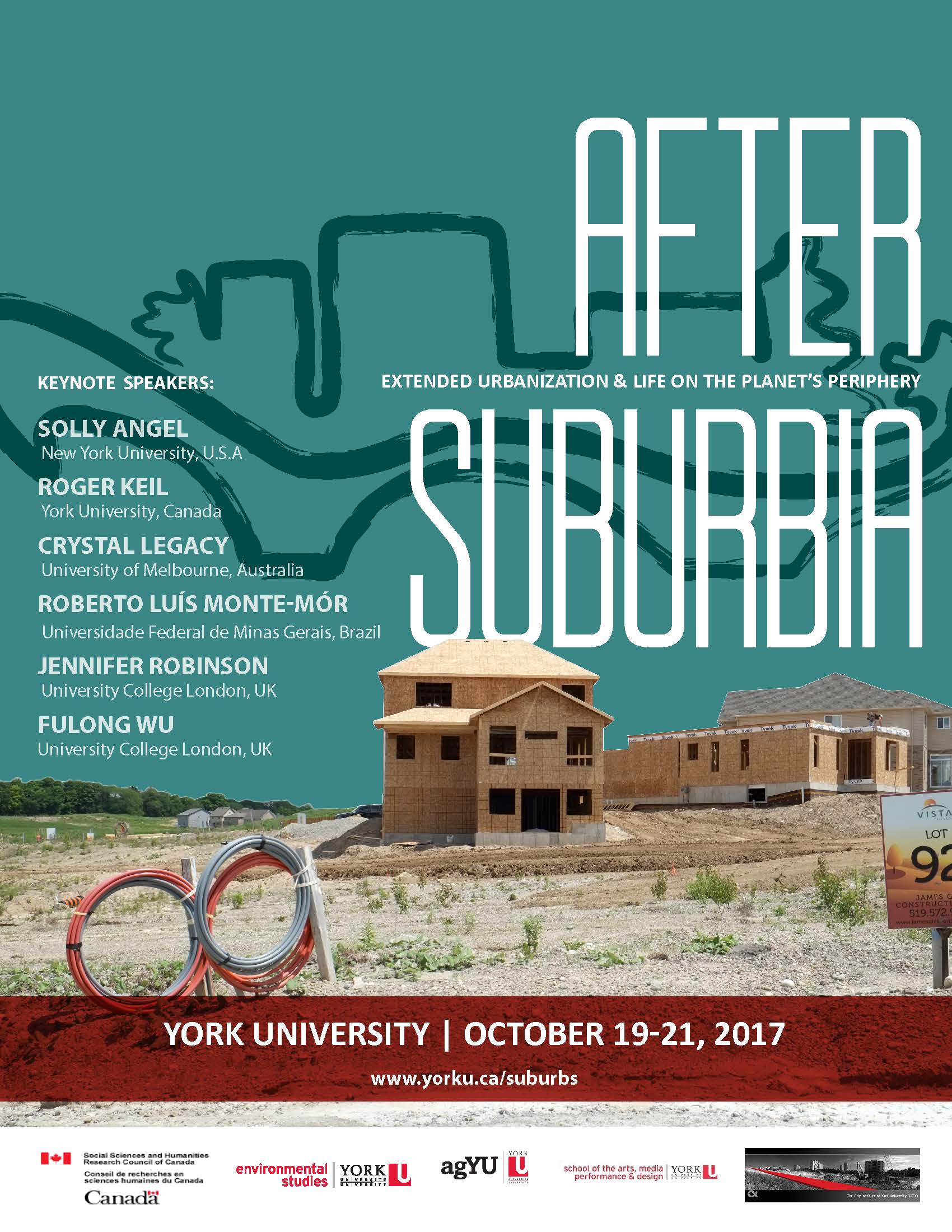 CLICK HERE FOR A PDF COPY OF THE PROGRAM
---
New book edited by Roger Keil, Pierre Hamel, Julie-Anne Boudreau  & Stefan Kipfer
Governing Cities through Regions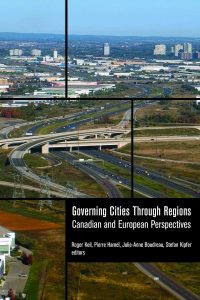 Canadian and European Perspectives
edited by Roger Keil, Pierre Hamel, Julie-Anne Boudreau  & Stefan Kipfer
'Governing Cities Through Regions broadens and deepens our understanding of metropolitan governance through an innovative comparative project that engages with Anglo-American, French, and German literatures on the subject of regional governance. It expands the comparative angle from issues of economic competitiveness and social cohesion to topical and relevant fields such as housing and transportation, and it expands comparative work on municipal governance to the regional scale.
With contributions from established and emerging international scholars of urban and regional governance, the volume covers conceptual topics and case studies
that contrast the experience of a range of Canadian metropolitan regions with a
strong selection of European regions. It starts from assumptions of limited
conversion among regions across the Atlantic but is keenly aware of the
remarkable differences in urban regions' path dependencies in which the larger
processes of globalization and neo-liberalization are situated and
materialized.'
---
News
This research is supported by the Social Sciences and Humanities Research Council of Canada through funding from the Major Collaborative Research Initiative "Global suburbansims: governance, land, and infrastructure in the 21st century (2010-2017).