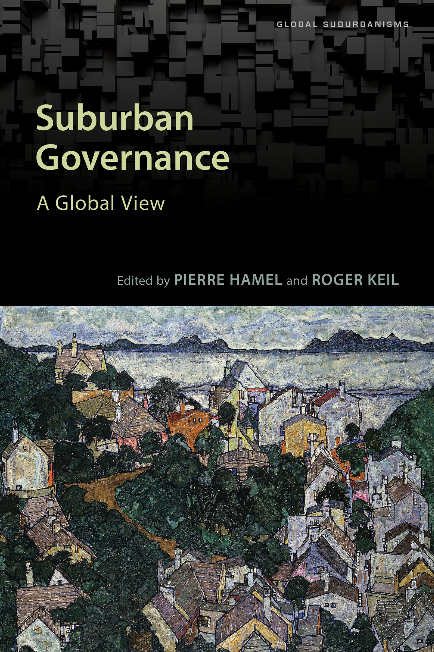 Team Leads:
Team Members & Area of Study:
Pierre Hamel (Canada)
Roger Keil (Canada)
Jan Nijman (USA)
Nick Phelps & Amparo Tarazona Vento (Western Europe)
Sonia Hirt (Eastern Europe)
Shubhra Gururani (South Asia)
Fulong Wu (China)
Robin Bloch (Africa)
Dirk Heinrichs, Henning Nuissl & Emilio Berrios (Latin America)
Jamie Peck (The relationship of society and space)
Sigrun Kabisch,  Matthias Bernt & Dieter Rink (Suburban shrinkage)
Research Context, Methods and Goals:
Under this research project, the topic of suburban governance was explored through formal and informal markets and regulation at various urban-regional scales. This was done through a review of current global debates, complimented by qualitative research in select locales (representative of metropolitan areas in Asia, Africa, Europe, North and Latin America). The research took place in two phases:
1. The first phase involved the elaboration of a theoretical framework. This was directed by Hamel and Keil with the help of graduate student Michael Ekers. This work resulted in the 2012 paper, "Governing Suburbia: Modalities and Mechanisms of Suburban Governance" by Ekers, Hamel & Keil, published in the Journal of Regional Studies.

2. The second phase, based on the theoretical framework, included the review of  specific contextual literature on suburban and metropolitan governance in order to write overview chapters. In June 2011, a first draft of those chapters was completed for the Workshop on "Suburban Governance" that took place in Leipzig, Germany.
Research & Dissemination:
From June 30 to July 3, 2011, researchers from the Governance group, the MCRI Advisory Board, and several international collaborators met at the Helmholtz Centre for Environmental Research in Leipzig to hold a workshop on the theme of Suburban Governance.
Papers presented at the workshop included both theoretical studies as well as papers that examined the processes of suburban governance in specific places, including North America, Europe, Africa, and South-East Asia.The goal of the workshop was to present and refine these papers in preparation for an edited book on suburban governance.
Suburban Governance: A Global View, edited by Pierre Hamel and Roger Keil was published in 2015 and is the first of the Global Suburbanisms Book Series. In addition to the papers that were planned at the outset, several other papers were added to cover complementary dimensions or regions: Louise Johnson (Australia); Robert Young (institutional issues); Terry McGee (marginal suburban development); and Tom Sieverts (anaesthetics).