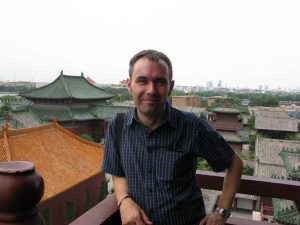 Title/Position:  Professor and Chair of Urban Planning
Department/Faculty/Institution: Faculty of Architecture, Building and Planning, Melbourne School of Design
Degree(s)/School(s): BA (Hons) Geography, University College London; PhD Geography, University of Newcastle-upon-Tyne  
E-mail: nicholas.phelps@unimelb.edu.au
MCRI Projects: A2: Governance; C3: Europe Research Cluster (Team Lead).
Background: Nick Phelps has a range of interests that cover economic and urban geography and planning internationally. His recent interests focus on the distinctive development of, politics in and planning challenges facing, post-suburban communities internationally. He has long-standing interests in understanding the evolution of city-region economies. His recent work in the UK has focused on the politics and planning processes underlying the production of urban sprawl. Phelps' recent publications include An Anatomy of Sprawl: Planning and Politics in Britain (Routledge, 2012) and International Perspectives on Suburbanization: a Post-suburban World? (Palgrave-MacMillan, 2011), co-edited with Fulong Wu.
Research Interests: The economy of city-regions; (sub)urban politics; The economics of urban agglomeration; The contribution of planning processes to urban sprawl.
Selected Publications:
Phelps, N.A (ed.)(2017). Old Europe, New Suburbanization?: Governance, Land, and Infrastructure in European Suburbanization. Toronto: University of Toronto Press.
Phelps, N.A. (2012). An anatomy of sprawl: Planning and politics in Britain. London: Routledge.
2011 Phelps, N.A. and Wu, F. (Eds.) International Perspectives on Suburbanization: a Post-suburban World? Palgrave-MacMillan, Basingstoke.
2011 Phelps, N.A 'The sub-creative economy of the suburbs in question', International Journal of Cultural Studies
2011 Golubchikov, O. and Phelps, N.A. 'The political economy of place at the post-Socialist metropolitan periphery: governing growth on the edge of Moscow', Transactions of the Institute of British Geographers
2011 Roitman, S. and Phelps, N.A. 'Do gates negate the city? The Recent Growth of gated residential developments in Pilar, Argentina', Urban Studies
2011 Wu, F. And Phelps, N.A. '(Post)suburban development and state entrepreneurialism in Beijing's outer suburbs', Environment & Planning A 43 (2): 410-430
2011 Phelps, N.A., Wood, A.M. 'The new post-suburban politics?' Urban Studies
2010 Phelps, N.A., Wood, A.M. and Valler, D.C. 'A post-suburban world? An outline of a research agenda', Environment & Planning A 42 (2): 366-383
2010 Phelps, N.A. 'Suburbs for Nations: Some interdisciplinary connections on the suburban economy', Cities 27 (2): 68-76
2008 Wu, F. And Phelps, N.A. 'From suburbia to post-suburbia in China: Aspects of the transformation of the Beijing and Shanghai global city regions', Built Environment 34 (4): 464-482
2006 Phelps, N.A., Parsons, N., Ballas, D. and Dowling, A. (2006) Post-suburban Europe: Planning and Politics at the Margins of Europe's Capital Cities. Palgrave-MacMillan, Basingstoke. pp.xiii +233
2006 Phelps, N.A., Parsons, N., Ballas, D. and Dowling, A. 'Business at the margins? Business interests in edge urban politics', International Journal of Urban and Regional Research 30 (2): 362-383
2004 Phelps, N.A. 'Clusters, dispersion and the spaces in between: for an economic geography of the banal', Urban Studies 41 (5/6): 971-989
2003 Phelps, N.A. and Ozawa, T. 'Contrasts in agglomeration: proto-industrial, industrial and post-industrial forms compared', Progress in Human Geography 27 (5): 583-604
2003 Phelps, N.A., and Parsons, N. 'Edge urban geographies: notes from the margins of Europe's capital cities', Urban Studies 40 (9): 1725-1749