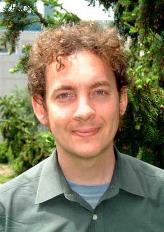 Title/Position: Associate Professor
Department/Faculty/Institution: Department of Geography, University of Toronto at Mississauga
Degree(s)/School(s): PhD (Geography/Planning) University of Toronto; MA (Planning) University of Waterloo; BA (International Development) Dalhousie University. 
E-mail: alan.walks@utoronto.ca
MCRI Projects: A1 Universal Benchmarking
Background: 
Alan Walks' research is concerned with understanding the causes and consequences of urban social and political inequality in the cities of the developed world, particularly those in Canada. The author of a number of scholarly articles and book chapters, he has examined the implications of predominant patterns of suburban growth for the trajectory of urban policy and national politics, as well as effects of changing urban policy on gentrification and concentration of poverty, among other things.
Research Interests: Urban Inequality and Social Polarization; Neighbourhood Effects on Political Attitudes and Ideology; Urban Development and Housing Policy.
Selected Publications:
Soederberg, S. & Walks, A. (2018). Producing and Governing Inequalities under Planetary Urbanization: From Urban Age to Urban Revolution? Geoforum. 89: 107-113.
August, M. & Walks, A. (2018). Gentrification, Suburban Decline, and the Financialization of Multi-Family Rental Housing. Geoforum. 89: 124-136.
Walks, A. (2017). Suburbs and Suburbanisms: Socio-Spatial Technologies and Radically-Open Fields of Possibilities. Lo Squaderno: Explorations in Space and Society. 46: 13-19.
Walks, A. (2017). Metropolitanization, Urban Governance, and Place (In)Equality in Canadian Metropolitan Areas. In J.M. Sellers, M. Arretche, D. Kubler, D. & E. Razin (eds.) Inequality and Governance in the Metropolis: Place Equality Regimes and Fiscal Choices in Eleven Countries. London: Palgrave Macmillan, pp. 79-106.
Walks, A. & Simone, D. (2016). Neoliberalization through Housing Finance, the Displacement of Risk, and Canadian Housing Policy: Challenging Minsky's Financial Instability Hypothesis. Research in Political Economy. 31: 49-77.  
Walks, A. (ed.) (2015). The Urban Political Economy and Ecology of Automobility: Driving Cities, Driving Inequality, Driving Politics. Abingdon, UK: Routledge.
Rosen, G. & Walks, A. (2015). Beyond Gating: Condo-ism as New Way of Urban Life. In S. Bagaeen & O. Uduku (eds.) Beyond Gated Communities: Urban Gating and Soft Boundaries. London: Routledge, pp. 154-169.
Rosen, G. & Walks, A. (2015) Castles in Toronto's Sky: Condoism as Urban Transformation. Journal of Urban Affairs. 85 (1): 39-66.
Walks, A. (2014). Gated communities, neighbourhood selection and segregation: The residential preferences and demographics of gated community residents in Canada. Town Planning Review. 85 (1): 39-66.
Sellers, J.M., Kübler, D., Walter-Rogg, M. & Walks, A. (eds.) (2013). The Political Ecology of the Metropolis. Essex: EPCR Press.
Walks, A. (2013). Suburbanism as a Way of Life, Slight Return. Urban Studies. 50 (8): 1471-1388.
Walks, A. (2011). Economic Restructuring and Trajectories of Socio-Spatial Polarization in the Twenty-First Century Canadian City. In L.S. Bourne, T. Hutton, R. Shearmur & J. Simmons (eds.) Canadian Urban Regions: Trajectories  of Growth and Change. Oxford University Press. pp. 125-159.
Walks, A. (2010). Electoral Behaviour Behind the Gates: Partisanship and Political Participation among Canadian Gated Community Residents. Area. 42 (1): 7-24.
Walks, A. (2007). From Suburbanization to Super-Regions: The Political Challenge Facing Canadian Metropolitan Areas and Their Central Cities. Plan Canada. 47 (3): 19-24.
Walks, A. (2007). The Boundaries of Suburban Discontent? Urban Definitions and Neighbourhood Political Effects. Canadian Geographer. 51 (2): 160-185.
Walks, A. (2006). Aestheticization and the Cultural Contradictions of Neoliberal (sub)Urbanism. Cultural Geographies. 13 (3): 466-475.
Walks, A. (2006). The Causes of City-Suburban Political Polarization? A Canadian Case Study. Annals of the Association of American Geographers. 96 (2): 390-414.
Walks, A. (2005). City-Suburban Political Polarization in Great Britain, 1950 – 2001. Transactions of the Institute of British Geographers. 30 (4): 500-517.
Walks, A. (2005). The City-Suburban Cleavage in Canadian Federal Politics. Canadian Journal of Political Science. 38 (2): 383-413.
Walks, A. (2004). Place of Residence, Party Preferences, and Political Attitudes in Canadian Cities and Suburbs. Journal of Urban Affairs. 26 (3): 269-295.