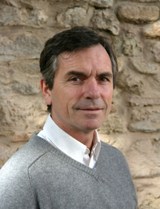 Title/Position: Director of Research, Centre d'Etudes Politiques de l'Europe Latine
Department/Faculty/Institution: Université de Montpellier-I
Degree(s)/School(s): Doctor of Political Science
E-mail: enegrier@univ-montp1.fr
MCRI Projects: A3: Land

Background: Emmanuel Négrier is a CNRS Senior Research Fellow at Montpellier, in political science. He belongs to the Centre d'Études Politiques de l'Europe Latine, CNRS-University of Montpellier I. He is member of the Social Science National Board of the CNRS (Paris); scientific director of a Regional Observatory of Cultural Policies. He collaborates in several cultural policy groups or organizations, including: Observatoire des Politiques Culturelles (Grenoble); Fondation de France (Paris); University of Barcelona (Cultural Policies Area); Observatoire des Politiques Publiques en Europe du Sud (Montpellier); Département des Études et de la Prospective du Ministère de la Culture (Paris); European Festival Association (Brussels); France Festivals (Paris).
Selected Publications:
Negrier, E. & Tomas, M. (2013). Metropolitan solidarity facing the test of politics. A double Franco-Spanish comparison. Sociology and Societies. 45 (2): 269-292.

Negrier, E. (2012). The Pen and the people. Geopolitics of the FN vote in Languedoc-Roussillon. South Pole (37): 153-164.
Negrier, E. (2010). La différenciation positive. Dans J.C.Nemery (dir.), Quelle nouvelle réforme pour les collectivités territoriales françaises ? Paris: L'Harmattan, coll. Grale, pp.315-324.
Negrier, E. (2009). Gouvernance. Montpellier. Dans A. Bourdin & R. Prost (dir.) Projets et stratégies urbaines. Regards comparatifs. Marseille: Editions Parenthèses, pp.178-188.
Negrier, E. & Jouve, B. (2009). Des régimes urbains partiels? Une comparaison des dynamiques sécessionnistes en Amérique du Nord et en France. Dans M. Camau & G. Massardier (dir.) Démocraties et autoritarismes. Fragmentation et hybridation des régimes. Paris: Khartala, coll. Science politique comparative, pp.45-61.
Negrier, E. (2009). Politique et territoire: fFn de règne et regain critique. Dans M. Vanier (dir.) Territoire, territorialité, territorialisation. Rennes: Presses Universitaires de Rennes, pp.123-129.
Negrier, E. (2008). Public Policies for the Performing Arts in France. In C. Smithuijsen (ed.) State on Stage. Amsterdam: BoekmanStudies, pp.79-89.
Negrier, E. (2008). Le paysage, territoire de l'art? Dans (collectif) Regards croisés sur les paysages, projets d'artistes dans trois Parcs Naturels Régionaux en Rhône-Alpes, pp.139-159
Negrier, E. (2008). Du local sans idée aux idées territoriales en action. Dans P.H. Warin & O.Giraud (dir.) Politiques Publiques et Démocratie. Paris: La Découverte, pp.163-178.
Negrier, E. (2007). Penser les changements d'échelle territoriale. Institution, dynamiques sociales et politiques métropolitaines. In A. Faure, P.H. Leresche, P. Muller & S. Nahrath (dir.), L'action publique à l'épreuve des changements d'échelle. Paris: L'Harmattan, coll. Logiques Politiques, pp.29-44.
Negrier, E. (2007). Political Rescaling and Municipal Cultural Public Policies: A Comparison of France and Québec. International Journal of Urban and Regional Research. 31 (1): 128-145.
Negrier, E. (2006). Rescaling French Urban Territories. State, Local Power and Territorial Configurations in the Building of New Metropolitan Institutions. European Planning Studies. 14 (7): 939-959.
Negrier, E. (2005). L'analyse comparée des politiques publiques. Méthodes et principes vécus. Revue Internationale de Politique Comparée. 12 (4): 503-524.