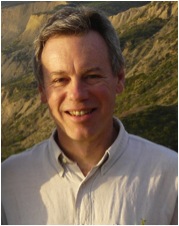 Title/Position: Associate Professor of Geography/Coordinator, Urban Studies Program
Department/Faculty/Institution: Department of Geography, University of Calgary
Degree(s)/School(s): PhD, University of Minnesota; MA, Arizona State University; B.Sc. Pennsylvania State University.
E-mail: byron.miller@ucalgary.ca
MCRI Projects: C2 North America Research Cluster
Background: Byron Miller's recent work focuses on the spatial constitution of social movements, urban governance and governmentality, and the politics of urban sustainability.  He worked as an urban planner for the city of Scottsdale, Arizona, in the early 1980s, spent three years living and studying in Freiburg, Germany, in the late 1980s, and taught at the University of Cincinnati (1993-2000) before taking his current position at the University of Calgary.  In Calgary he teaches courses on urbanization and urban planning, urban social geography, urban politics and governance, globalization, and field courses on urban sustainability in Europe.  In 2000 Miller was a summer fellow at the Institute for Advanced Study in the Behavioral Sciences at Stanford University.   He has served as a board member of the Urban Geography Specialty Group (1999-2001) and the European Geography Specialty Group (2009-2011) of the Association of American Geographers, a board member of Geography Compass (2008-present), a board member of Sustainable Calgary (2008-present), and has served on numerous City of Calgary planning committees including the Downtown Urban Structure Plan committee, the ImagineCalgary Urban Governance Working Group, and the ImagineCalgary Steering Committee.  He was a co-founder of CivicCamp Calgary (Calgary's leading citizen advocacy organization) and one of two citizens appointed by Calgary City Council to serve on the Plan-It Implementation Committee (2009-2010), addressing the implementation of Calgary's new 60 year Master Development and Transportation Plan ("Plan-It").
Research Interests: Social Movements; Urban Governance; Politics of Urban Sustainability; Political Economy of Calgary's Growth and Development; Alberta as an Oil and Gas Rentier State.
Selected Publications:
Ward, K., Jonas, A., Miller, B. & Wilson, D. (eds.)(2018). Handbook on the Spaces of Urban Politics. Routledge.
van der Poorten, K. & Miller, B. (2017). Secondary Suites, Second-Class Citizens: the History and Geography of Calgary's Most Controversial Housing Policy. The Canadian Geographer. 61 (4): 564-578.
Miller, B. & Ponto, J. (2016). Mobility among the Spatialities. Annals of the American Association of Geographers. 106 (2): 266-273.
Miller, B. (2016). Sustainability Fix Meets Growth Machine: Attempting to Govern the Calgary Metropolitan Region. In R. Keil, P. Hamel, J.A. Boudreau & S. Kipfer (eds.) Governing Cities through Regions: Canadian and European Perspectives. Wilfred Laurier Press, pp. 213-238.
Miller, B. & Adkin, L. (2016). Alberta, Fossil Capitalism, and the Political Ecology of Change. In L. Adkin (ed.) First World Petro-Politics: The Political Ecology and Governance of Alberta. Toronto: University of Toronto Press, pp. 527-560
Miller, B. (2015). Sustainability for Whom? Sustainability How? In D. Wilson (ed.) The Politics of the Urban Sustainability Concept. Champaign, Illinois: Common Ground Publishing, pp. 107-116.
Miller, B., Nicholls, W. & Beaumont, J. (eds.)(2013). Spaces of Contention: Spatialities of Social Movements. Alderschot: Ashgate.  (re-issued in 2016 by Routledge)
Miller, B. & Nicholls, W. (2013). Social Movements in Urban Society: the City as a Space of Politicization. Urban Geography. 34 (6): 1-22.
Miller, B. & Smart, A. (2011). Heart of the New West?' Oil and Gas, Rapid Growth, and Consequences in Calgary. In T. Hutton, L. Bourne & J. Simmons (eds.) Trajectories of Change in Canadian City-Regions: Processes, Consequences, and New Policy Directions. Oxford: Oxford University Press.
Miller, B. (2010). Space and Social Movements. In B. Warf (ed.) Encyclopedia of Geography. London and Thousand Oaks: Sage.
Miller, B. (2009). Is Scale a Chaotic Concept? Notes on Processes of Scale Production. In R. Mahon & R. Keil (eds.) Leviathan Undone? Toward a Political Economy of Scale. Vancouver: University of British Columbia Press, pp. 51-66.
Miller, B. (2000). Geography and Social Movements: Comparing Antinuclear Activism in the Boston Area. Minneapolis: University of Minnesota Press.