Panels, presentations and other conference activities will take place in three buildings in the central area of the York University's Keele campus.
Registration, lunch breaks and receptions will be in the CIBC lobby outside the Sandra Faire & Ivan Fecan Theatre, in the Accolade East building. Presentations and panels will take place in Accolade East as well as the adjacent Schulich Building (Executive Learning Centre area) and Technology Enhanced Learning (TEL) building.
A larger PDF version of the map below is available here.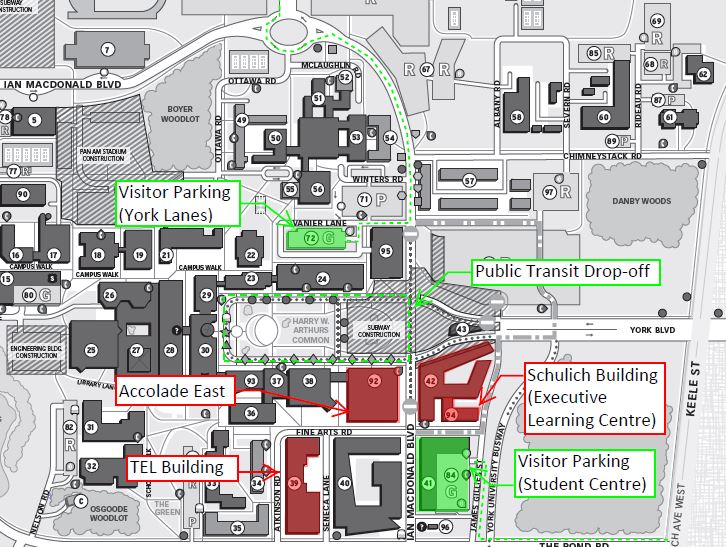 Those driving to campus will need to park in designated visitor lots. The most convenient lot for attendees is the Student Services parking facility, located in the campus's southeast quadrant.
If you follow directions to the lot, be aware that several roads on campus are closed due to subway construction and it is best to enter through The Pond Road, at the south end of the campus, off Keele Street.
The York Lanes garage, on the north side of the campus, is also accessible and can be accessed via the Founders Road entrance, on Steeles Avenue West.
Please be advised: It is the start of the school year and some of the conference will be taking place on days when classes are in session. Plan accordingly and leave extra time both to get to the campus and to find your way around it.