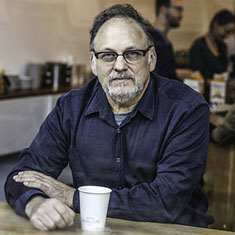 Title/Position: Department Headand Associate Professor
Department/Faculty/Institution: Department of City Planning, Faculty of Architecture, University of Manitoba
Degree(s)/School(s): PhD (Environmental Studies) York University; Master of Architecture with Certificate in Urban Design, University of Pennsylvania; Bachelor of Environmental Studies, University of Manitoba.
E-mail: milgrom@cc.umanitoba.ca
MCRI Projects: C2: North America Research Cluster
Background: Richard Milgrom is an architect, city planner and urban designer.  He has practiced in Canada and the United Kingdom and worked in academic Canadaian and US programs in both planning and architecture. His research interests include participatory planning and design processes, urban sustainability, and the relationship between population diversity and urban form.  His current work focuses on the social impact of urban development patterns using the city of Winnipeg as a case study. Within this work, he is particularly interested in the challenges faced by ageing populations, and how age-neighbourhoods, cities and towns can be adapted to be more "age-friendly."  Working with the Active Aging Community University Research Alliance based in the University of Manitoba's Centre on Aging, and in cooperation with the Province of Manitoba's Age-Friendly Initiative, Milgrom and graduate City Planning students are working with communities to envision more age-friendly environments in Winnipeg and in smaller rural towns.
Research Interests: Neighborhood Planning and Community Participation; Age-friendly Cities and Communities; Relationship of Urban Sustainability and Urban Form; Urban Environments for Multicultural Societies; Social Impacts of Urban Development Patterns.
Selected Publications:
Milgrom, R. (2011). Slow Growth vs the Sprawl Machine: Winnipeg, Manitoba. In R. Keil, P.B. Wood & D. Young (eds.) In-Between Infrastructure: Urban Connectivity in an Age of Vulnerability.  Kelowna, BC: Praxis (e)Press.
Milgrom, R. (2010). Guest Editor. "Planning for the Homeless." Plan Canada, 50 (1).
Milgrom, R. (2008). Guest Editor. "Planning for Changing Demographics." Plan Canada, 48 (3).
Goonewardena, K., Stefan Kipfer, S.,  Milgrom, R., & Schmid, C. (eds.)(2008). Space Diversity Everyday: Reading Henri Lefebvre. New York: Routledge.
Milgrom, R. (2008). Lucien Kroll: Design, Difference, Everyday Life. In  K. Goonewardena, S. Kipfer, R. Milgrom and C. Schmid (eds.) Space Diversity Everyday: Reading Henri Lefebvre. New York: Routledge.
Milgrom, R. & Rahder, B. (2004). The Uncertain City: Making Space(s) for Difference. Canadian Planning and Policy. 13 (1): 27-45.
Milgrom, R. (2002). Realizing Differential Space?  Design Processes and Everyday Life in the Architecture of Lucien Kroll. Capitalism Nature Socialism (CNS). 13 (2): 75-95.