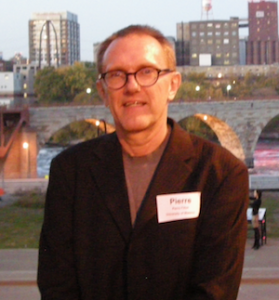 Title/Position:  Professor
Department/Faculty/Institution: School of Planning, University of Waterloo
Degree(s)/School(s): BA & MA Political Science, Université Laval, PhD Urban Studies, University of Kent
E-mail: pfilion@uwaterloo.ca
MCRI Projects: A1: Universal Benchmarking; A4: Infrastructure; B5: Regional Governance and Suburbanization; B7: Transportation (Team Lead); C2: North America Research Cluster.
Background: Pierre Filion's recent research work focuses on the obstacles to a smart growth inspired transformation of cities, as well as metropolitan scale planning models put forth in the plans of large North American metropolitan regions. More generally, his research projects have dealt with the relationship between transportation and land use, and with the impact of societal change on cities with a particular focus on values, the economy and institutions. More specific areas of research include downtowns, the changing structure of metropolitan regions and suburban centres.
Research Interests: The political economy of the city; Core area revitalization; Neighbourhood Planning; Metropolitan Region Planning; Transportation-land use relationship; The urban structure of suburban areas.
Selected Publications:
Filion, P. & Pulver, N.M. (eds.)(2019). Critical Perspectives on Suburban Infrastructures: Contemporary International Cases. Toronto: University of Toronto Press.
Filion, P. (2018). The Morphology of Dispersed Suburbanism: The Land-use Patterns of the Dominant North American Urban Form. In R. Harris & U. Lehrer (eds.) The Suburban Land Question: A Global Survey. Toronto: University of Toronto Press.
Filion, P. & Keil, R. (2016). Contested infrastructures: Tension, inequity and innovation in the global suburb. Urban Policy and Research. 35(1)
Filion, P., Moos, M., Vinodrai, T & Walker, R. (2015). Canadian Cities in Transition: Perspectives for an Urban Age. Oxford: Oxford University Press.

Filion, P. (2015). Suburban Inertia: The Entrenchment of Dispersed Suburbanism. International Journal of Urban and Regional Research. 39: 633-640.
Filion, P. (2015). The Creation and Perpetuation of an Automobile-Oriented Urban Form: Dispersed Suburbanism in North America. In M. Moraglio & C. Kopper (eds.) The Organization of Transport: A History of Users, Industry and Public Policy. New York: Routledge, pp. 173-194.