Starting with the Sidewalk Labs project at Toronto's waterfront and moving to the mega-developments reshaping New York City, the students in Professor Ute Lehrer's graduate planning workshop explored one of the most pressing questions of today, namely adequate and affordable housing.
This course, "Housing, Affordability and the Smart City Paradigm," was the final installment of the MCRI Critical Urban Planning Workshop series offered as a part of the urban planning program at the Faculty of Environmental Studies at York University. It included a three-day field trip in New York City in October where students investigated mega projects, the distribution and access to land, and what different modes for housing provision could look like, including coop housing, land trust and the role of tenant rights and rent control.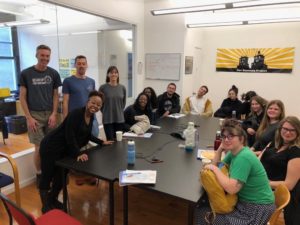 A report has been completed by the students and was presented at York University in November. It will be presented to the City of Toronto and to the Ontario Coalition Against Poverty in January 2020.