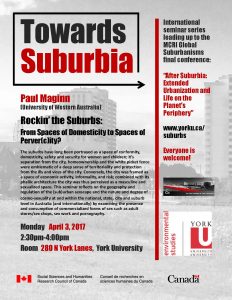 Join us for our first installment in the Towards Suburbia seminar series with Australian planning scholar Paul Maginn, Monday April 3, at 2:30 pm in 280 N York Lanes.
The suburbs have long been portrayed as a space of conformity, domesticity, safety and security for women and children; it's separation from the city, home ownership and the white picket fence were emblematic of a deep sense of territoriality and protection from the ills and vices of the city. Conversely, the city was framed as a space of economic activity, informality, and risk; combined with its phallic architecture the city was thus perceived as a masculine and sexualized space. This seminar reflects on the geography and regulation of the (sub)urban sexscape and the nature and degree of cosmo‐sexuality at and within the national, state, city and suburb level in Australia (and internationally) by examining the presence and consumption of commercialized forms of sex such as adult stores/sex shops, sex work and pornography.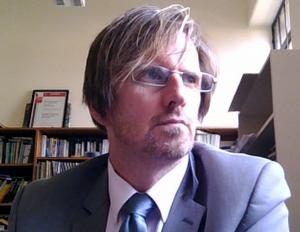 Paul J. Maginn is an Associate Professor and Programme Co-ordinator for the Masters in Urban and Regional Planning programme at the University of Western Australia where he has been based since 2007. Originally from Belfast, Northern Ireland, he has degrees from the University of Ulster (Coleraine) and Queen's University of Belfast. Paul completed his PhD on urban regeneration at London South Bank University. He is the co-editor/author of several edited books, including (Sub)Urban Sexscape: Geographies and Regulation of the Sex Industry which won the Planning Institute of Australia's 2016 National Award for Excellence in Cutting Edge Research and Teaching. Paul is completing another edited book, Suburbia in the 21st Century: From Dreamscapes to Nightmares, with Katrin Anacker; and he is about to commence work on another edited book, Navigating Contemporary Sex Work: Gender, Justice and Regulation (Palgrave Macmillan).
This seminar series is presented by the Major Collaborative Research Initiative Global Suburbanisms as a lead up to the project's final conference, "After Suburbia: Extended Urbanization and Life on the Planet's Periphery."