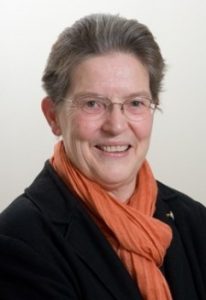 Title/Position:  Director, Centre on Governance
Department/Faculty/Institution: Faculty of Social Science, University of Ottawa
Degree(s)/School(s):  BA (UBC), Maîtrise (Laval), PhD (Toronto)
E-mail: candrew@uottawa.ca
MCRI Projects: B8: Everyday Suburbanisms; C2: North America Research Cluster

Background: Caroline Andrew's research interests lie in understanding the relationships between community-based equity seeking groups and municipal governments. Over the past 30 years she has focused on issues of class (urban development and centre city displacement in Hull and Gatineau), gender (women's community-based groups and municipal politics, women's urban safety ) and race (immigration policies at the municipal level, creating welcoming communities).
Research Interests: Feminist organizing at the local level in neo-liberal times;  Analysis of the Local Immigration partnerships (LIPs); Global and local strategies for creating safe and inclusive cities for women and girls; Francophone Immigration in Ontario; Economic Development and Social Inclusion in Ottawa
Selected Publications:
Andrew, C. & Doloreux, D. (2012). Economic Development, Social Inclusion and Urban Governance: The Case of the City‐Region of Ottawa in Canada. International Journal of Urban and Regional Research. 36: 1288-1305. doi:10.1111/j.1468-2427.2011.01025.x
Andrew, C., Ray, B., & Chiasson, G. (2011). Ottawa-Gatineau: Capital Formation, in L.S. Bourne, T. Hutton, R. Shearmur & J. Simmons (eds.) Canadian Urban Regions: Trajectories of Growth and Change. Oxford University Press.
Andrew, C. (2010). Récit d'une recherche-action: La participation et le passage de frontières de femmes immigrantes à la Ville d'Ottawa. Sociologie et Sociétés. XLII-1: 227-243.
Andrew, C. (2008). La Ville d'Ottawa et l'immigration francophone. Thèmes canadiens. Printemps: 65-68.

Agrawal, S., Andrew, C. & Biles, J. (2009). Welcoming Communities: Planning for Diverse Populations. Plan Canada. 
Andrew, C., Biles, J., Siemiatycki, M. & Tolley, E. (2008). Electing a Diverse Canada: The Representation of Immigrants, Minorities and Women. Vancouver: UBC Press.
Andrew,  C. (2010). Federalism and Feminism: The Canadian Challenge for Women's Urban Safety. In M. Haussman, M. Sawer & J. Vickers (eds.) Federalism, Feminism and Multilevel Governance. Ashgate: 83-96.
Andrew, C. (2008). Women in cities: New spaces for the women's Movement? In S. Grey & M. Sawer (eds.) Women's Movements: Flourishing or in Abeyance? Routledge: 116-127.
Andrew, C. (2008). Gendering Nation-States and/or Gendering City-States: Debates about the Nature of Citizenship. In Y. Abu-Laban (ed.) Gendering the Nation State: Canadian and Comparative Perspectives. UBC Press: 239-251.
Andrew, C. (2006). Evaluating municipal reform in Ottawa-Gatineau: Building for amore metropolitan future? In E. Razin & P. Smith (eds.) Metropolitan Governing. Jerusalem: Hebrew University Magnes Press: 75-94.
Andrew, C. (2007). Trying to be World-Class: Ottawa and the Presentation of self. In T. Gibson & M. Lowes (eds.) Urban Communication. Lanham: Rowman and Littlefield: 127-140.