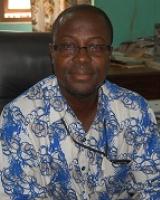 Title/Position: Professor, ISSER & Director, Centre for Urban Management Studies
Department/Faculty/Institution: Institute of Statistical, Social & Economic Research, University of Ghana
Degree(s)/School(s):  PhD (Geography) Norwegian University of Science and Technology; M.Phil (Social Change) Norwegian University of Science and Technology.
Email: gowusu@isser.edu.gh
MCRI Projects: C1: Africa
Background: George Owusu holds a PhD in Geography (with focus on urban and regional development) and a Master of Philosophy degree in Social Change - all from the Norwegian University of Science and Technology, Norway. He obtained his B.A (Hons.) degree from the University of Ghana, Legon, Ghana. Currently, Dr Owusu is a Professor in ISSER and the Director of the Centre for Urban Management Studies University of Ghana, Legon. He is also the Coordinator of Graduate Programmes (MA, MPhil., PhD) at ISSER. Dr. Owusu's main areas of research include urbanization and regional development, land tenure, decentralization and participatory approaches to development. He has also in recent times focused on youth unemployment in urban Ghana.
Research Interests: Urban and Regional Development; Decentralization; Participatory Approaches to Development.
Selected Publications:
Owusu, G., Osei, R.D. & Asante, F.A. (eds.) (2017). Contemporary Issues in Development: A Reader. Accra: Sub-Saharah Publishers.
Owusu, G. (2014). Governance for Pro-Poor Urban Development: Lessons from Ghana. Norsk Geografisk Tidsskrift-Norwegian Journal of Geography. 68 (4): 260-261. doi:10.1080/00291951.2014.924552
Owusu, G., Amponsah, E., Codjoe, S.N. & Afutu-Kotey, R.L. (2014). How do Ghana's landfills affect residential property values? A case study of two sites in Accra. Urban Geography. 35 (8): 1140-115. doi: 10.1080/02723638.2014.945261
Owusu, G., Agyei-Mensah, S., Yankson, P.W.K & Attua, E.M (eds.) (2013). Selected Readings in Geography. Accra: University of Ghana/Woeli Publishing Services.
Owusu, G. (2011). Housing the Urban Poor in Ghana's Largest Metropolitan Area, Accra: What is the Role of State in the Era of Liberalization and Globalization? In C. Brun, M. Jones & P. Blaikie (eds.) Unravelling Marginalisation and Voicing Change: Alternative Geographies of Development. Sages Publication.
Owusu, G. (2011). Population Growth, Urbanization and Housing in Ghana. National Population Council Technical Publication. Accra: NPC.
Owusu, G. (2011). Small towns and decentralized development in Ghana: A strategy for dispersed urbanization?' In P. Bouvier, J. Bakole & D. Swinne (eds.) Poverty in Medium and Small Cities of Developing Countries. Brussels: UN-Habitat/Royal Academy of Overseas Sciences of Belgium, pp. 189-207.
Owusu, G. & Agyei-Mensah, S. (2011). Comparative Study of Ethnic Residential Segregation in Ghana's Two Largest Cities, Accra and Kumasi. Population and Environment. doi: 10.1007/s11111-010-0131-z
Owusu, G. & Afutu-Kotey, R.L. (2010). Poor Urban Communities and Municipal Interface in Ghana: Case Study of Accra and Sekondi-Takoradi Metropolis. African Studies Quarterly. 12 (1): 1-16.
Owusu, G. (2010). Social Effects of Poor Sanitation and Waste Management on Poor Urban Communities: A  Neighbourhood-Specific Study of Sabon Zongo, Accra. Journal of Urbanism: International Research on Placemaking and Urban Sustainability. 3 (2): 145-160.
Agyei-Mensah, S. & Owusu, G. (2010). Segregated by Neighbourhoods? A Portrait of Ethnic Diversity in the Neighbourhoods of the Accra Metropolitan Area, Ghana. Population, Space and Place.16 (6): 499-516.
Owusu, G. (2009). Urban Growth and Changing Land Access and Rights in Peri-Urban Areas of Ghana's Largest Metropolises, Accra and Kumasi. African Population Studies. 23: 253-281.