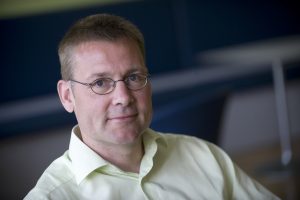 Title/Position:  Dr., Senior Researcher
Department/Faculty/Institution: Institute of Transport Research, DLR
Degree(s)/School(s): University of Dortmund, Germany, Urban Planning, Ph.D., 2004; University of Nottingham, UK, Environmental Planning for Developing Countries, M.A., 1991; University of Osnabrück, Germany; Landscape Management and Planning, Dipl.-Ing., 1989.
E-mail: dirk.heinrichs@dlr.de
MCRI Projects: A2: Governance.
Background: Dirk Heinrichs is a senior research fellow at the Institute of Transport Research of the German Aerospace Centre (DLR), where he currently coordinates a DLR research initiative on Transport and the Environment. Between 2005 and 2010 he led the Risk Habitat Megacity project, a collaboration of the German Helmholtz Association, Universities in Latin America and the UN ECLAL with a focus on urban sustainable development in the region. His research concentrates on the governance of suburban development in Latin America and Europe. Dirk is further working on urban adaptation to climate change. In this capacity, he is a member of several climate networks such as the Urban Climate Change Research Network (UCCRN) and the Urbanization and Global Environmental Change (UGEC) core project of the International Human Dimensions Programme (IHDP). He teaches in International Urban Development Courses at the Berlin Technical University and the Vietnamese-German University in Ho Chi Minh City.
Research Interests: Suburban Governance in Latin America, Social-Spatial Segregation and Housing, Climate Change Adaptation, Transport and Urban Mobility.
Selected Publications:
Nuissl, H., Heinrichs, D., (2011): Fresh wind or Hot Air? Does the Governance Discourse Have Something to Offer to Spatial Planning; Journal of Planning Education and Research. DOI: 10.1177/0739456X10392354
Heinrichs, D. (2010): Ressourcenverknappung und Umweltrisiken. Der Klimawandel in der Metropolregion Santiago de Chile. In: PLANERIN 6/2010: 66-68
Ebert, A. Welz, J., Heinrichs, D., Krellenberg, K., Hansjürgens, B. (2010): Socio-environmental Change and flood risks: the case of Santiago de Chile, in: Erdkunde 64 (4): 303 - 313
Heinrichs, D., Krellenberg, K. (2011): Adaptating Cities to Climate Change: Evidence from Latin American city-regions, in: Zimmermann, K.O., Zimmermann, M.: Resilient Cities; Springer (forthcoming Spring 2011)
Krellenberg, K., Heinrichs, D. (2010) Urban Latin America under climate change: do adaptation strategies of city-regions respond to the challenges? in: NOVA ACTA LEOPOLDINA, NF 112 (384): 267 – 274
Heinrichs, D., Aggrawal, R., Barton, J., Bharucha, E., Butsch, C. Fragkias, M., Johnston, P. Kraas, F., Krellenberg, K., Lampis, A., Ling, O.G. (2011): Adapting Cities to Climate Change: Opportunities and Constraints. In: Helluin, J.J. et al (eds.): Cities and Climate Change. An urgent agenda. The World Bank (in Press)
Kopfmüller, J., Lehn, H., Nuissl, H., Krellenberg, K. Heinrichs, D. (2010): Sustainable Development of Megacities: An integrative Research Approach for the Case of Santiago Metropolitan Region, in: Die Erde 140 (4): 417-448
Barton, J., Heinrichs, D. (2011): Santiago de Chile: Adaptation, Water Management and the Challenges for Spatial Planning, in: Rosenzweig, C., Solecki, W. Hammer, S. (Eds): Climate Change and Cities. First Assessment Report of the Urban Climate Change Research Network. Cambridge University Press (forthcoming 2011)
Heinrichs, D., Nuissl, H., Rodriguez Seeger, C.(2009): Dispersión Urbana y Nuevos Desafíos para la Gobernanza (Metropolitana) en América Latina: el Caso de Santiago de Chile. Revista EURE (35) 104: 29-46
Heinrichs, D., Kabisch, S. (2009): Urban socio-spatial segregation in Latin America: Contrasting perspectives and empirical evidence, in: Abdel-Hadi, A., Tolba, M. Soliman S. (eds.): Environment, Health and Sustainable Development, Hogrefe & Huber. 110-119