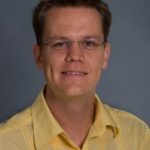 In this ongoing series of posts, we will be talking with researchers on the Global Suburbanisms project about their own individual work, published articles and ongoing research. This installment features University of Waterloo professor Markus Moos, discussing the Atlas of Suburbanisms.
Q: Can you talk about your background and how you became involved in the Global Suburbanisms project?
A: I hold a joint-honours bachelor degree in Environmental Studies and Economics from the University of Waterloo; a Master's in Planning from Queen's; and a doctoral degree in Geography from UBC. My research is on the changing economies and social structures of cities. Currently, I am particularly interested in gaining a better understanding of the changing age structure of the Canadian population and how this manifests in the urban social geography. I generally conduct my research using large datasets, particularly the Census.
I was in the final stages of completing my PhD, when one of my then supervisor, Dr. Elvin Wyly, approached me about a post-doctoral opportunity with the MCRI grant. The research team was at the grant proposal writing stage for the project. The purpose of hiring a post-doc was to advance quantitative analysis of Canada's suburbs and suburban ways of living (or suburbanisms). The intent was to bring someone on board that could produce statistical and spatial analysis. Once the project was granted funding from SSHRC, I had secured a faculty position at the University of Waterloo. So, I joined the project as an investigator, and we were able to hire someone else for the post-doc.
Q: What's so important about suburbs?
A:  Suburbs as places have undergone dramatic change. Although always having been diverse, suburbs today contain a greater housing mix and a more diverse population than in the past. A large share of immigrants now resides in the suburbs of Canada's largest metropolitan areas.
Growing interest in the suburbs has also come about as a result of concerns about the environmental impacts arising from automobile use and sprawling development patterns—two characteristics often associated with suburban expansion in North America. There is a need to find more sustainable ways of accommodating people in cities and suburbs to reduce congestion, CO2 emissions and loss of environmentally significant lands.
"My hope is that our work on suburbs begins to challenge the notion that suburbs are somehow 'sub' to the urban. Suburbs matter in their own right, and if we are to tackle some of the pressing transportation and social issues impacting the long-term sustainability of our metropolitan area..." 
Q: What is the focus of your research for the MCRI to date and what are you working on over the next few years?
A: My focus has been problematizing definitions of suburbs and suburban ways of living using quantitative analysis. We developed indicators of suburban ways of living, and conducted novel analyses that contribute to better understanding of the social geography and built form of suburbs. The work also aims to alter the way we talk about metropolitan areas. It aims to move away from simply distinguishing between urban and suburban areas, and conceptualize intra-metropolitan space on continuums of suburban and urban ways of living.
In the coming years, we will continue to track changes in the socio-economic composition of suburbs, suburbanisms, and the policy implications of an increasingly suburban Canada. We also hope to expand the scope to the US and beyond to conduct more international comparative analysis. Currently I am working on the ways age and lifestyle are shaping urban/suburban form, and the processes that are behind the residential location and commute decisions of different generations of people.
Q: Looking at the atlas specifically,  what's the most important point you wish to convey?
A: There are two: One is that the analysis we conducted for the Atlas using largely 2006 Census data cannot be replicated using the 2011 data because of the now voluntary nature of the National Household Survey. We are no longer able to obtain all the data at the small scale we used to create the Atlas maps, nor is the 2011 data necessarily representative due to its voluntary nature. Because of the changes to the Census our ability to understand and track suburban (and urban) changes have diminished.
Two, the maps and articles convey the diverse social geography of Canada's metropolitan areas. They highlight the differences between what we generally refer to as suburbs and cities. Importantly, however, they create awareness that not all suburbs, or cities, are created equal.
Some suburbs resemble downtown areas in their built form and transportation patterns; some city neighbourhoods feel and look 'suburban'. The simple urban-suburban dichotomy limits our understanding of the ways our metropolitan areas are changing.
Our research challenges us to think about new ways to theorize and analyze suburbanization and diverse forms of suburbanisms; and the possibilities of quantitative analysis to be a component of critical urban geographies.
Q:  Beyond just your own work, what are your hopes for the MCRI in terms of changing how we think about suburbs?
A: Today's suburbs are diverse not only in Canada but also if compared to other international contexts. Across the world, suburbs consist of single-family dwelling neighbourhoods, high-rises, mid-rises, mobile homes, self-built homes and various combinations of these different housing types and urban forms. A large share of the population lives in suburbs.
Despite their diversity and size, in popular dialogue North American suburbs are all too often portrayed as this homogenous 'thing' that only matters to the 'city' in terms of supplying workers and offering an 'escape' for 'families with children'. It is cities that get all the attention when we speak about global economic and societal importance.
My hope is that our work on suburbs begins to challenge the notion that suburbs are somehow 'sub' to the urban. Suburbs matter in their own right, and if we are to tackle some of the pressing transportation and social issues impacting the long-term sustainability of our metropolitan areas, such as congestion, sprawl, automobile reliance and housing affordability concerns, suburbs have to factor into the equation. We cannot all live in the dense, edgy and cool neighbourhoods in the center of the city. The solution to sustainability concerns must involve the suburbs.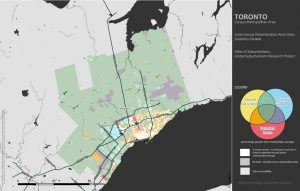 Q: What do you with your time when you're not thinking about suburbs?
A:  On the home front, I spend as much time as possible with my wife and daughter. On the work front, I think about generational change and how it is impacting our metropolitan areas. Millenials are moving into urban areas, and near transit, in large numbers. It will be interesting to see how this change alters their long-term residential location decisions, and whether and how it will impact the nature of suburbanization…so, essentially, I am still thinking about suburbs in my other work too.