Suburban change is transforming city life around the world


Principal Investigator Roger Keil and Project Coordinator Lucy Lynch summarize a decade of suburban research under the Global Suburbanisms project and what to expect next in The Conversation:
The Global Suburbanisms research initiative has confirmed the idea that critical urban research must make an effort to contribute to the analysis of the production of, and life in, the planet's urban peripheries.
Read more here.
---
Critical Urban Planning Students head to New York to study mega-projects and affordable housing
Starting with the Sidewalk Labs project at Toronto's waterfront and moving to the mega-developments reshaping New York City, the students in Professor Ute Lehrer's graduate planning workshop explored one of the most pressing questions of today, namely adequate and affordable housing. This course, "Housing, Affordability and the Smart City Paradigm," was the final installment of the MCRI Critical Urban Planning Workshop series offered as a part of the urban planning program at the Faculty of Environmental Studies at York University. It included a three-day field trip in New York City in October where students investigated mega projects, the distribution and access to land, and what different modes for housing provision could look like, including coop housing, land trust and the role of tenant rights and rent control. A report has been completed by the students and was presented at York University in November. It will be presented to the City of Toronto and to the Ontario Coalition Against Poverty in January 2020.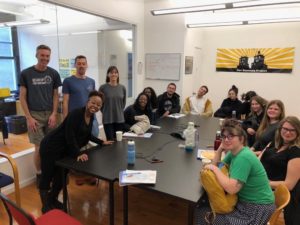 ---
Aging in Suburbia Podcast
SSHRC postdoctoral fellow Samantha Biglieri speaks with Upstream Radio's Ralph Benmergui on Aging in Suburbia.
---
MES Students Travel through Germany to Study Housing Practices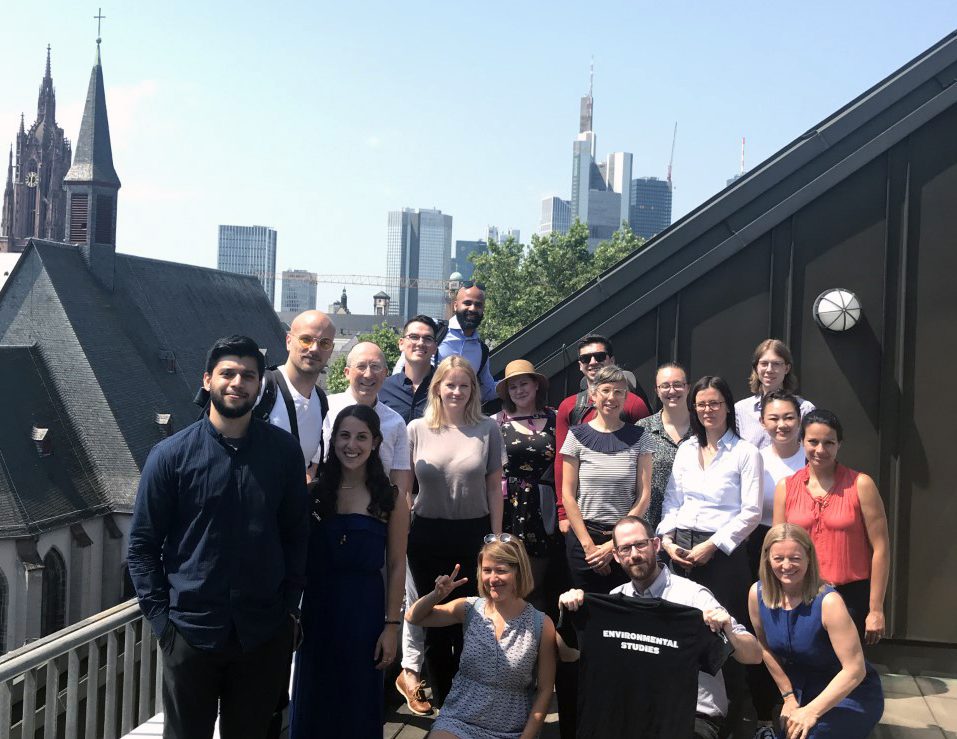 Written by the students of the Critical Urban Planning Workshop ENVS 6325 (Originally published in YFile)
Ten York University students traveled through Germany from June 1 to 11 to study housing policies, issues and practices as part of a master's in environmental studies (MES) course. The 10-day international field trip for the MES workshop in critical urban planning took place in three German cities under the directorship of Professor Ute Lehrer, Faculty of Environmental Studies.
The course, "High-rise Apartment Buildings: From Modernism to Financialization," brought students to Frankfurt, Weimar and Berlin to compare Toronto housing to that of Germany. The students were instructed to assume the role of a planning firm looking to answer questions around housing in Toronto and what can be learned from historical and contemporary German examples. Students started out in Frankfurt, Germany's financial hub and a rapidly developing city that is undergoing immense transformation and facing high housing prices due to financialization and the investment of global capital in the built environment.
"In Frankfurt I saw how important the creation and maintenance of narrative is for a city to attempt to attract global capital," said student Alex Christison. "The city can easily become for those who don't wish to live and build community in the city."
The four days in Frankfurt included a visit to the "Römer," the recently finished reconstruction of the old quarter of Frankfurt, a bike ride through Frankfurt's greenbelt to modernist housing settlements built in the 1920s by Ernst May, a lecture and bike tour by Professor Susanne Heeg at the University of Frankfurt, a tour of the rapidly gentrifying working class neighbourhood Gallus, and a visit to the city's planning and development office to learn about their approaches to high rise development and questions around housing affordability.
Students continued their journey to Weimar, the birthplace of the Bauhaus, where they participated in two days of lectures, tours and an evening of comparative student presentations with peers from the Bauhaus University Weimar's planning school. The timing of the fieldtrip coincided with the 100 year anniversary of the Bauhaus, the art and design school internationally renowned for its influence on the modernist movement of the 20th century.
"Professor Barbara Schönig's (Bauhaus University) lecture on mass housing helped shape my understanding of social housing tower communities in Germany," said student Mehedi Khan.
The field trip continued in Berlin, Germany's capital and largest city, and the epicentre of much of Germany's modern housing history. Berlin's history as a divided city was present in the students' experience as they toured housing developments on both the former eastern and western sides. Learning about housing offered a unique perspective through which to understand the effects of capitalist and socialist policies on the built environment in Berlin, and was contextualized with the expertise of local academics, Matthias Bernt, Laura Calbet Elias and Harald Bodenschatz, as well as with the insights of Lehrer, an expert on the redevelopment of Potsdamer Platz after Berlin's reunification in the 1990s.
"I thought it was really interesting to explore the history of east and west Berlin," said student Zachary Dark. "Learning about the partition of the city really helped me understand Berlin's current housing situation, and how the partition of the city impacted its urban form."
While in Berlin, students also visited Le Corbusier's suburban housing development Unité d'Habitation and met up with activists fighting for housing justice and against gentrification in the central Berlin neighbourhood of Kreuzberg.
"Learning about the growing anti-gentrification movement unfolding here has given me hope for Toronto and other global cities in the world: perhaps another world is truly possible," said student Jerrica Gilbert.
The field trip was financially supported by the MCRI (Major Collaborative Research Initiative) research project on Global Suburbanisms (PI: Professor Roger Keil), the German Academic Exchange Program (DAAD) as well as York International.
---
Two New Titles added to Global Suburbanisms Book Series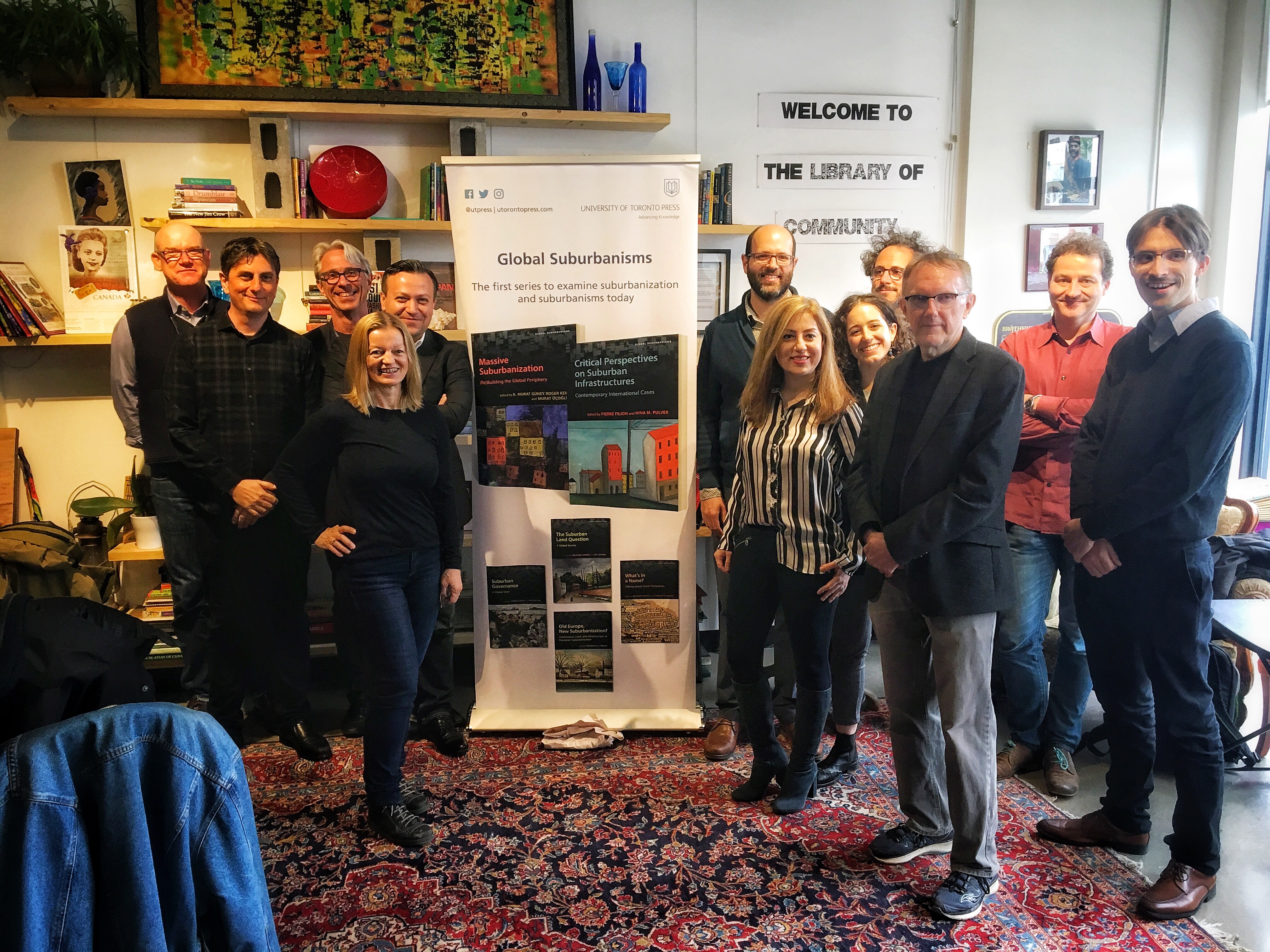 We live in a world of expanding city regions. The Toronto and Waterloo region are prime examples of a global dynamic that involves tendencies of both intensified and sprawling urban form. As inner cities have once more become attractive to creative economic activities and residential use, the expansion of the suburban footprint into the region has equally picked up speed.
These dynamics result increasingly in complex problems related to housing and infrastructures. Massive existing and emerging housing estates, both of ground related and multi-family units, blanket the regional landscape with densities varying across the region's places to grow. Existing infrastructures burst at the seams while new and much needed technologies of new mobility, communication, environmental and social services are not coming on line fast enough.
Leading researchers in the Toronto and Waterloo region, in cooperation with colleagues from around the world as part of York University's Global Suburbanisms research project, have studied housing and infrastructures in the suburbanizing regions. Their findings, relevant to academics, planners, urbanists and activists, are now available in two jointly launched books published by the University of Toronto Press in the Global Suburbanisms Book Series. The book launch, which took place May 13, 2019 at Toronto bookstore A Different Booklist, was well attended by academics and community members and featured an introduction by the books' editors.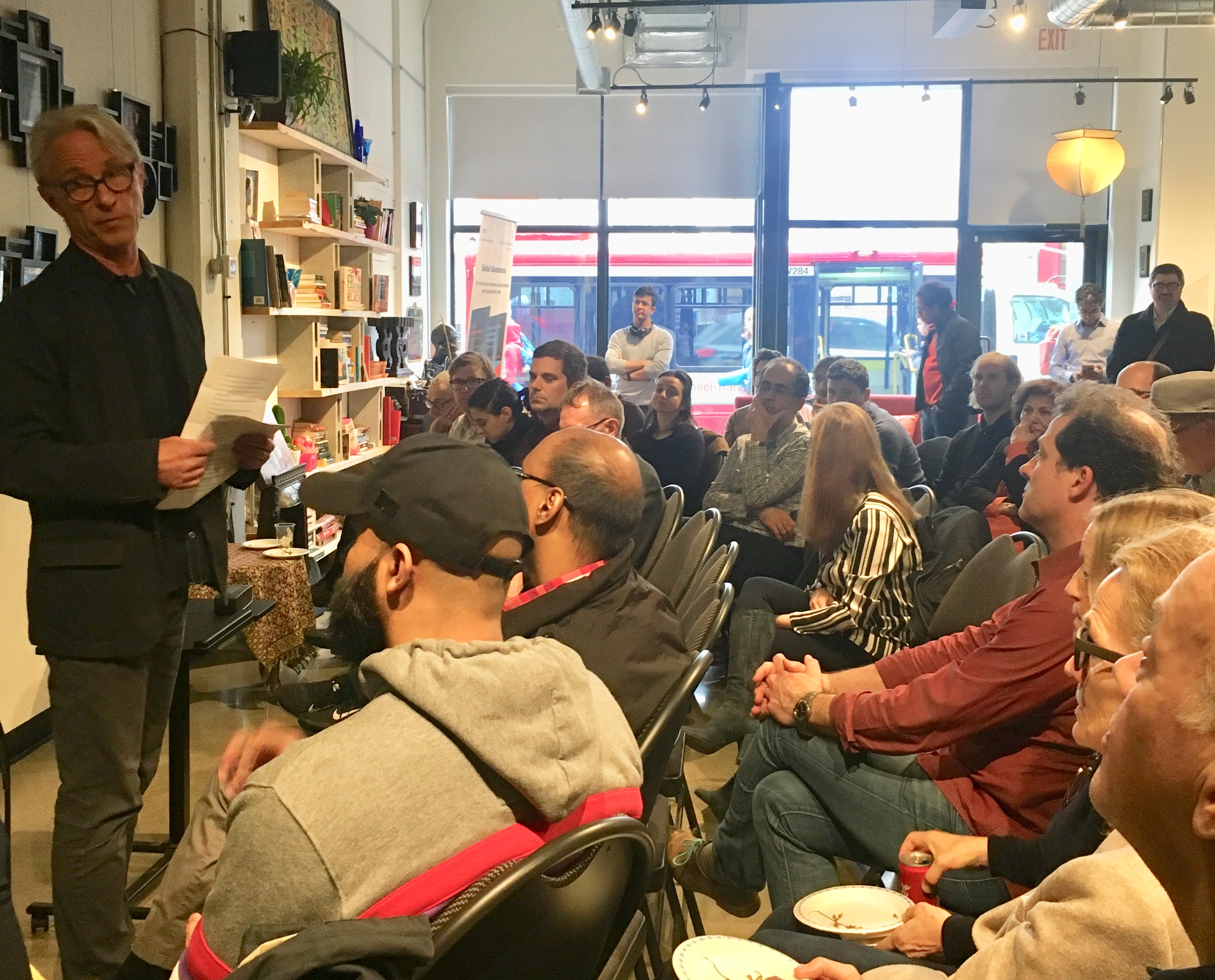 Massive Suburbanization: (Re)building the Global Periphery edited by K. Murat Guney, Roger Keil, and Murat Ucoglu provides a systematic overview of large-scale housing projects in the urban periphery. Global in focus - from large-scale suburban projects in Canada, the former Czechoslovakia, France, Germany, and the United States to new peripheral estates in China, Egypt, Israel, Morocco, the Philippines, South Africa, and Turkey - Massive Suburbanization builds a new discussion pertaining to the problems of the urban periphery, urbanization, and the neoliberal production of space.
As much of the new urban growth in cities is taking place in the periphery, infrastructures are in a constant state of playing catch-up to rapid development. They are also places of major urban innovation. Critical Perspectives on Suburban Infrastructures: Contemporary International Cases, edited by Pierre Filion and Nina M. Pulver identifies various political, economic, social, and environmental issues related to suburban infrastructures. It also highlights the similarities and differences between suburban infrastructure conditions encountered in the Global North and Global South.
Click here to order your copies!
---
A Theory of the Tides: Centres, Peripheries and Urban Revolt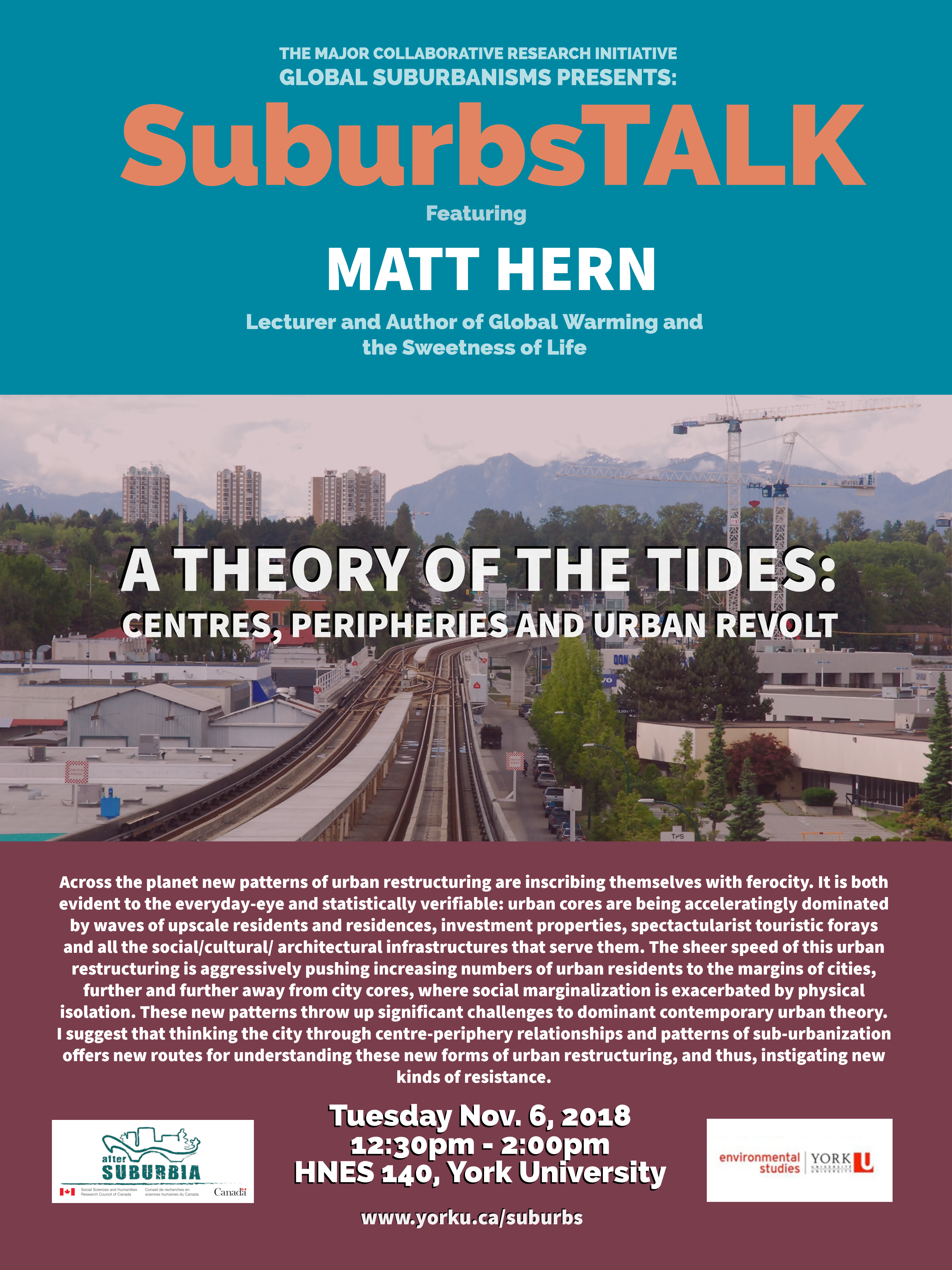 Date: Tuesday November 6, 12:30pm-2:00pm
Location: Room 140, Health, Nursing & Environmental Studies Building
Across the planet new patterns of urban restructuring are inscribing themselves with ferocity. It is both evident to the everyday-eye and statistically verifiable: urban cores are being acceleratingly dominated by waves of upscale residents and residences, investment properties, spectactularist touristic forays and all the social/cultural/ architectural infrastructures that serve them. The sheer speed of this urban restructuring is aggressively pushing increasing numbers of urban residents to the margins of cities, further and further away from city cores, where social marginalization is exacerbated by physical isolation. These new patterns throw up significant challenges to dominant contemporary urban theory. I suggest that thinking the city through centre-periphery relationships and patterns of sub-urbanization offers new routes for understanding these new forms of urban restructuring, and thus, instigating new kinds of resistance.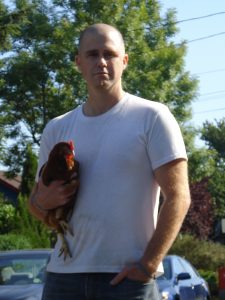 Matt Hern lives and works in East Vancouver on səlil'wətaʔɬ (Tsleil-Waututh), Skwxwú7mesh (Squamish), and xʷməθkʷəy̓əm (Musqueam) territory with his partner and daughters. He co-directs Solid State Industries, and continues to lecture globally. Matt's books and articles have been published on all six continents and translated into thirteen languages. His most recent books are What a City is For: Remaking the Politics of Displacement (MIT Press, 2016) and Global Warming and the Sweetness of Life (MIT, 2018, with Am Johal and Joe Sacco).
---
News
This research is supported by the Social Sciences and Humanities Research Council of Canada through funding from the Major Collaborative Research Initiative "Global Suburbansims: Governance, Land, and Infrastructure in the 21st Century" (2010-2017).